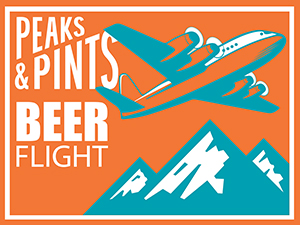 We're gonna make you an offer you can't refuse. Yes, it's the best-known line from The Godfather book (1969) and film (1972), both written by Mario Puzo. In fact, it is one of the best-known lines in any film and ranks second only to "Frankly, my dear, I don't give a damn" as the most celebrated quotation from an American film. But, instead of killing you with violence, as Vito Corleone was suggesting, Peaks & Pints is going to kill you with delicious Italian pilsner. OK, no one is going to die, but you will die over this Italian invented lager. Italian brewer Agostino Arioli learned to brew in Germany. He returned home in 1997 to help start the Italian craft beer movement, drawing on the German pilsners he had already learned to brew. Birrificio Italiano, Arioli's brewery in Limido Comasco, a small town southwest of Italy's Lake Como, began brewing the Italian pilsner Tipopils, the original gangster of Italian pilsners, and it is widely given credit for starting the trend. An Italian pilsner is a German pilsner with a greater emphasis on hops, including dry-hopping at the end of its brewing cycle. Pivo Pils, first brewed in 2013 by Firestone Walker Brewing Company in Paso Robles, California, is a legendary early adopter in this country. Sadly, Pivo isn't available in the warehouse to order. Oh well, Peaks & Pints presents a to-go flight of Italian Pilsners anyway — a flight we call Peaks and Pints Pilot Program: Italian Pilsner On The Fly.
Peaks and Pints Pilot Program: Italian Pilsner On The Fly
Structures Italian Pilsner
5.1% ABV
Structures Brewing brewed the Italian Pilsner with a chubby little Italian sparrow on the can to add to their series of bird labels. This pilsner is dry hopped with a perfect amount of Continental hops. It's a super crisp pilsner with a magical balance between mild fruity sweetness and dry, hoppy finish.
Sig Pilscifer
5.5% ABV, 25 IBU
Sig Brewing kettle hopped their Pilscifer with Calista and dry hopped with Mosaic. Although they call it a "New American Pilsner," it has the characteristics of a hoppy Italian pilsner. Brewed with pilsner malt combined with a touch of oats, corn and Vienna malt, this pilsner has a good amount of fruity hops with a lightly fruity yet highly crispy finish.
Chuckanut Italian Style Pilsner
4.9% ABV, 42 IBU
A collaboration lager with Chuck's Hop Shop in Seattle, Chuckanut Brewery and Chuck's Italian Style Pilsner is brewed with Italian grown Pilsner malt to lay down a backbone that delivers graininess and slight honey sweetness. The star of the show are the nobel hops Hallertau Perle and Tradition for a clean bitterness and Tettanger and Saaz for flavor and aroma. It's a highly drinkable lager with huge notes of spicy and herbal hops.
---