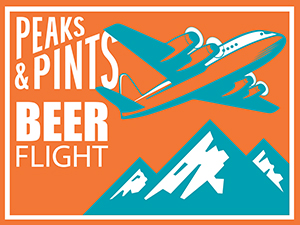 "It is a dark time for the Rebellion." Star Wars: The Empire Strikes Back hit the big screen May 21, 1980. Indeed, 40 years ago today Luke Skywalker interrupted his Jedi Knight training to rescue his motley crew of friends from Dark Vader in the second installment of Lucas' Star Wars trilogy. Mark Hamill, Carrie Fisher, and Harrison Ford returned as the most likable gauche trio since Buster Crabbe, Jean Rogers, and Frank Shannon blasted off in Flash Gordon. The aerial battle against the AT-AT walkers on Hoth, the betrayal in Cloud City, and the penultimate confrontation between Luke Skywalker and Darth Vader were encapsulated in a two-hour package. The Empire Strikes Back remains one of the greatest adventure films of all time. In celebration, Peaks & Pints presents our second Star Wars themed to-go beer flight this month, this time around naming it Peaks and Pints: Stars Wars Beer Flight Strikes Back.
Peaks and Pints: Stars Wars Beer Flight Strikes Back
Ecliptic Brewing SunRay Juicy IPA
6.5% ABV, 45 IBU
In 2013, famed brewer John Harris founded Ecliptic Brewing purchasing the brewhouse from friend and Dogfish Head founder Sam Calagione. Harris' love for brewing and astronomy shines as he pushes the limits of creativity rotating Ecliptic's offerings every six weeks in accordance with the old world calendar, producing seasonal favorites, including his latest, SunRay Juicy IPA. Brewed with Idaho 7 and Bru-1 hops, plus 100 percent Pale malt, SunRay Juicy IPA pours a hazy deep golden color with a frothy head that keeps its retention for an extended time. Flavors of citrus first hit your tasted buds followed by a bit of hop bitterness on the back end. By the way, in The Empire Strikes Back, a Snowspeeder passes closely over the structure where Solo and Luke shelter with the sun behind it, yet neither shadow nor light glitches are visible on the ground.
Modern Times Star Cloud
6.8% ABV, 50 IBU
Remember in The Empire Strikes Back when Han Solo and Princess Leia seemed a little spaced out after they first arrived in the Cloud City, it's not just because they had spent time occupying the stomach of a giant asteroid-dwelling space worm only a few scenes prior. Nope, it's because they were high. The two partied with the Rolling Stones at Monty Python member Eric Idle's house the night before and arrived on the set without sleep and still high. Modern Times Star Cloud, brewed with Citra, Cashmere, and Motueka, is an insanely tasty crusher that will have you floating as high at Cloud City — and Leia and Han — with juicy, tropical bliss.
Narrows 2020: A Hop Odyssey
6.2% ABV, 60 IBU
Narrows Brewing's 2020: A Hop Odyssey hazy IPA is a nod to 2001: A Space Odyssey, a sci-fi film George Lucas himself stated was the ultimate sci-fi film, and that Lucas used it as a model for his sci-fi world. Narrows head brewer Matt Rhodes opened the pod bay door to wheat and pilsner malts, as well as Simcoe, Bruce, and Motueka hops, for soft haziness with notes of cotton candy and lemon/lime.
Kulshan Baby Yoda Hazy IPA
7.5% ABV, 50 IBU
Yoda was a legendary Jedi Master and stronger than most in his connection with the Force. Small in size but wise and powerful, he trained Jedi for over 800 years, playing integral roles in the Clone Wars, the instruction of Luke Skywalker in The Empire Strikes Back, unlocking the path to immortality, and an elder to Baby Yoda, an infant member of the same unnamed alien species. Kulshan Brewing shines a lightsaber light on Baby Yoda with a pillowy soft malt body, and Amarillo and Simcoe hops for bright citrus and pine notes. Tropical fruit and berry notes courtesy of Idaho 7 hops is strong with this one, blending perfectly with the other hop notes to create a juicy and delicious brew.
New Belgium Voodoo Ranger Starship IPA
7.7% ABV, 50 IBU
A starship, also known as a starcruiser, spaceship, spacecraft, or simply just craft or ship, was a vessel designed for interstellar travel, specifically between star systems. Slave I is the starship used by bounty hunter Boba Fett in The Empire Strikes Back and by his father, Jango Fett, in Attack of the Clones. Its appearance in the original release of The Empire Strikes Back was realized by a combination of matte paintings and a 27-inch model. New Belgium Brewing's Voodoo Ranger Starship IPA is a highly drinkable American IPA brewed with Galaxy hops (natch). With a light to moderate sweetness, Starship IPA is brewed with unique mid-fermentation dry hopping techniques. When combined with Galaxy, Starship IPA gives fan's palates notes of fresh grapefruit and citrus.
StormBreaker Son of Jango: Cloud City Edition
6.7% ABV, 60 IBU
Boba Fett was created as a clone — part of a larger operation producing clones as soldiers to fight for the Galactic Federation. The owner of the DNA being cloned, a bounty hunter named Jango Fett, agreed to participate on the condition that he would be permitted to raise one of the clones as his own son. Boba grew up on Kamino, and was taught by Jango the skills required for what would become his future profession. The baddest bounty hunter in the galaxy deserves the baddest IPA. StormBreaker Brewing brewed this hazy IPA with Falconer's Flight, Galaxy, and Mandarina Bavaria hops for notes of tropical fruit and a mean juicy, dank bite with a dry finish.
---