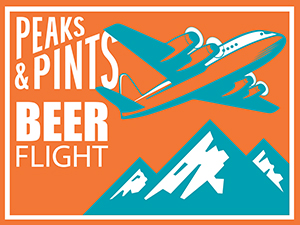 Forty years ago today, Toru Iwatani helped himself to a slice of pizza and looked down at the rest of the pie. What he saw inspired one of the world's most recognized video games: Pac-Man, first released in by Namco in Japan on May 22, 1980. Today, Blinky, Pinky, Inky, and Clyde are back, this time as inspiration for Peaks and Pints to-go beer flight, Peaks and Pints Pilot Program: Pac-Man Beer On the Fly. As Duke Nukem long ago dictated, video games and beer go together like video games and not getting laid — such as those Pac-Man fanatics who buried their heads into those yellow dots at the Schooner Pub in Lakewood and The Bavarian in the Stadium District in the 1980s and 1990s. Anyway, Peaks & Pints is the place to power up today, except we don't have Pac-Man, but we do have Pac-Man theme-ish beer. Cheers!
Peaks and Pints Pilot Program: Pac-Man Beer On the Fly
Pike Octopus Ink
8.3% ABV, 25 IBU
In the original Pac-Man, the red ghost Blinky was written to follow behind Pac-Man, the Pinky ghost is tasked with getting in front of Pac-Man, Clyde would sometimes behave as Blinky and other times wander off on his own, while Inky, the blue ghost, was intended to be unpredictable: he might behave as Blinky, Pinky or Clyde. It's unpredictable what brewers will call their Black IPAs: American black ale, India black ale and Cascadian dark ale (when most of the hops are American-grown Cascades) all basically mean the same thing. Hops are at the forefront, but the style can also have a modest malt signature because of the amount of black malts that are used to give it its rich black color. Pike Brewing's Octopus Ink(y) chases the hoppier side of the black IPA style with Chinook, Centennial, Citra, and Simcoe hops in the kettle, then dry-hopped with Citra, Amarillo, and Simcoe for a toasted pine needle aroma and a woody, spicy pine and resiny edge to the bitterness. This isn't an in-your-face hop monster, just solidly hopped beer with a firm malty core.
Rogue Dead Guy Ale
6.8% ABV, 40 IBU
Rogue Ales' proprietary Pacman Yeast Strain is alcohol tolerant, flocculent, attenuates well and will produce beers with little to no diacetyl. It's very mild fruit complements a dry, mineral finish making this a fairly neutral strain. Pacman's flavor profile and performance makes it a great choice for use in many different beer styles, including Rogue's Dead Guy Ale maibock. The addition of Pearl and Sterling hops makes for a robust take on the classic German beer. Although the beer's missing the style's bread crust, the present flavors are harmonious: Bread with toasted edges runs over the tongue before orange notes pop up. Hefty bitterness chases the swallow while peppery alcohol prickles the sip front to back. Plus, you know, Pac-Man was a dead guy.
Level Beer Low Resolution
6.7% ABV
Like many other games of its time, Iwatani's intention was to make Pac-Man into an infinite play game. Unfortunately, an error caused Pac-Man to be unplayable beyond the 255th level. It is possible to attempt to complete 256th screen, but gamers would only be able to pass this stage with sheer luck rather than skill. Pac-Man's screen resolution is 224 x 288 for a total board size of 28 x 36 tiles, though most of these are not accessible to Pac-Man or the ghosts. That about covers why Level Beer Co.'s Low Resolution Hazy IPA is on this to-go flight. The beer is big, juicy, tropical and will fill your glass with citrus hop flavors and aromas. The resolution might be terrible, but the flavor isn't.
Grains of Wrath Built For Speed
6.7% ABV
Upon Pac-Man's massive success in the early 1980s, many modifications and hacks of the game were released, without the permission of Namco or distributor Bally Midway. One of the earliest modifications was to "overclock" the entire Pac-Man machine, making the entire game run at roughly double the speed it was intended to; this made the game both harder to play and be over much quicker. A new, similar hack was released after this, which greatly increased Pac-Man's speed, without any form of overclocking. The latter kit was presumably also intended to make the game more challenging — but it can arguably be considered easier, as it makes the chance of being cornered by ghosts less likely. These "speed-up kits" are a segue to Grains of Wrath's Built For Speed, head brewer Mike Hunsaker's West Coast IPA recipe that he's had in his pocket for a while. Light and dry with flavors of tropical fruit, pine and dank grapefruit, it drinks like an old friend while playing Pac-Man.
---