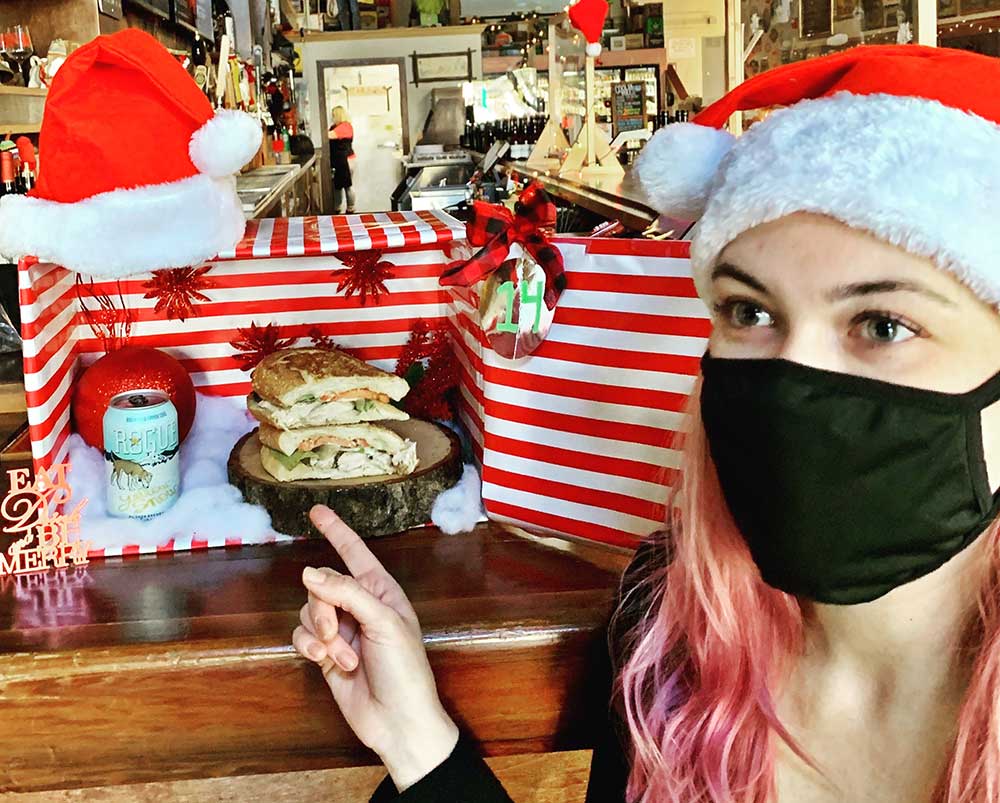 Peaks and Pints presents Adventwiches Beeralendar Day 14: Et Tu, Rudolph, Et Tu?
Peaks & Pints knows it can be very challenging to wait patiently until Christmas morning to open those pretty presents under the tree. To ease the temptation and make the holiday season even brighter, we recommend counting down the days to Christmas with Peaks & Pints Adventwiches Beeralendar — a daily advent calendar featuring a holiday sandwich special and a winter beer behind a candy cane striped door. It's festive way to celebrate every day of the holiday season — after all, it is the most wonderful time of the year. Now come spread the Christmas cheer as bartender Nicole has opened the Day 14 door to reveal Et Tu, Rudolph, Et Tu? and Rogue Yellow Snow.
Kitchen Kylee's Et Tu, Rudolph, Et Tu arrives with Caesar dressing, chicken, Parmesan, tomato, and romaine on sourdough. Because pilsner pairs with everything, feel good knowing that Day 14 also include Rogue Ales' Yellow Snow winter-inspired pilsner brewed with Oregon spruce tips, which add sweetness and slight piney, citrusy nuances.
Order the sandwich special ahead at 253.328.5621, and we'll have it ready for you when you grab the Yellow Snow, or any of our 800-plus other craft beers, cider and wine.
Holiday and Winter Beers in the Peaks & Pints Cooler
Anchor Christmas Ale
Aslan King Moonracer Winter Ale
Brasserie d'Achouffe N'Ice Chouffe
Brasserie Dieu du Ciel! Solstice d'Hiver
Buoy Strong Gale Winter Ale
Cordendonk Christmas Ale
Deschutes 2020 Jubelale
Dupont Avec Les Bons Voeux
Fremont Bourbon Barrel Aged Dark Star: Spice Wars 2020
Hair of the Dog Doggie Claws Barleywine
Huyghe Delirium Noel
Maritime Pacific Jolly Roger Christmas Ale
Port Brewing Santa's Little Helper
Reuben's 3 Ryes Men
Reuben's Holiday Gose
Rogue Yellow Snow
Saint Bernardus Christmas Ale
Shmaltz Hanukkah Beer
Silver City Old Scrooge Christmas Ale
StormBreaker Barrel-Aged Winter Coat
---