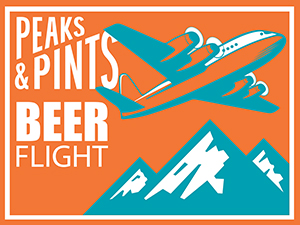 Every December — while the bartenders close down our Proctor District craft beer bar, bottle shop and restaurant for the night — Peaks & Pints co-owner Pappi Swarner grabs three holiday beers, heads upstairs to his office, cranks his computer speaks to an 11 and watches holiday Youtube videos. Obviously, he can't perform his holiday tradition this year … at Peaks & Pints. No, his holiday glee now takes place inside his home, much to the chagrin of his wife and daughter. In the spirit of giving, we offer you the chance to share his joy. Today, he pairs the three Christmas season beers with three Christmas carols in a flight he calls, Peaks and Pints To-Go Christmas Beer Flight: Christmas Beer Carols.
Peaks and Pints To-Go Christmas Beer Flight: Christmas Beer Carols
Port Santa's Little Helper
10% ABV, 70 IBU
Pappi's favorite version of song about a vindictive voyeur — "He sees you while you're sleeping, he knows if you're awake, he knows if you've been bad or good, so be good for goodness sake" — was performed by The Beach Boys, with their sweet voices belying the dark theme of the song. You better watch out, indeed. Pappi's pairing "Santa Claus Is Coming' to Town" with Santa's Little Helper, Port Brewing's replacement for the milk and cookies the big guy must be getting tired of by now. The imperial stout smells like Santa's chocolate cookie kitchen. Once the palate adjusts to the liberal cocoa flavors, an entire advent calendar unfolds: milky ganache, toasted marshmallows, bourbon and Tahitian vanilla toffee. The finish lends hints of sweet crystal malt, warming tones of alcohol and a touch of hops, making a perfect accompaniment to leftover fruitcake and sugar cookies.
Delirium Noel
10% ABV, 20 IBU, Campfire Crowler fill

"Over the river and through the wood" … this standard winter holiday song is familiar to millions. Originally published Flowers for Children, Vol. 2 in 1844, the poem has long outshone the rest of the poems in that volume. The formal title is "A Boy's Thanksgiving Day" though it's also often used as a Christmas song, with lyrics changed — "Hurray for Christmas Day!" — and "grandmother's house we go" inserted instead of grandfather's abode. Maybe there was a divorce. Pappi's pairing the Snap Smart Kids' version with Delirium Noel from Brouwerij Huyghe, the oldest, active brewery in that corner of Belgium. Huyghe's Delirium line of beers is famous for the pink elephant that adorns every label on every ceramic painted bottle. Its Noel labels are no exception. Skiing, sledding, pulling Santa's sleigh; the Pink Elephant does it all. Delirium Noel is a big, spicy beer with a lot dried fruit character and touch of alcohol to let you know that you're drinking a beer with a double-digit ABV.
Anchor Merry Christmas & Happy New Year (Our Special Ale) 2020
7% ABV, 40 IBU
Fountains of Wayne's "I Want An Alien for Christmas" bottled the essence of a 21st-century child's Christmas wish: "I want a little green guy about 3 feet high with 17 eyes that knows how to fly." Pappi's pairing it with this year's version of Anchor Brewing Merry Christmas & Happy New Year (Our Special Ale). It hits the nose with fruitcake, molasses and Christmas spruce, followed by creamy bittersweet chocolate, coffee, roasted malts and toasted nuts. Anchor has released a holiday beer every year since 1975, making the brewery one of the great-granddaddies of the craft-brewing scene.
---