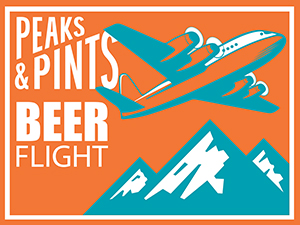 'Twas the 11th day before Christmas, and all through the city, everyone yearned for a cider and a Pesto Pastrami. The waffles were devoured, with nary a care, and boredom set in at every household lair. "Hey, it's Monday," they realized, "let's head to Peaks and Pints! This is the glorious day that they serve cider flights!" Peaks and Pints Monday Cider Flight 12.14.20: Holiday Cider is a thing. Three ciders in a to-go flight, all could be called cider bling. As the 8 p.m. closing time neared, folks grabbed their sandwich order, arm full of craft beer and cider were grabbed from the cooler. But we heard them exclaim through their masks, as they rode out of sight, "Happy holidays to all, and to all a good night!"
Peaks and Pints Monday Cider Flight 12.14.20: Seasonal Cider
Dwinell Almira – Heritage Cider
6.5% ABV
Borrowed from natural winemakers, the méthode ancestrale technique is a method of sparkling cider production where cider is bottled prior to fully completing its first full fermentation, allowing carbonation to be produced by the natural sugars found in apples. Being a formative technique, it's a bit more crude, but proponents argue that it results in greater flavor and variation. Dwinell Country Ales in Goldendale, Washington, uses the méthode ancestrale methord, or pétillant naturel (pét nat) method, to make their Normandy-style Almira – Heritage Cider from bittersweet Marie Menard, Domaines, and Muscadet de Lense apples, apples grown primarily in and around the Paye d'Auge region of northern France. It's more bubbly and has more of a deeper sweet flavor due to the apples and cidermaking methods.
One Tree Snow Globe
6.6% ABV
Who doesn't love glitter? It's nearly impossible to get out of your cleavage after a night on the town, but it's festive as hell. And now thanks to edible glitter, your digestive system can be as sparkly as your 1990s eye shadow palette. One Tree Hard Cider Snow Globe is a delicious spiced cider with glitter. We recognize the clove and cinnamon, but the glitter seems like a handful rather than a full dance floor dump, which is perfect.
Reverend Nat's Abbey Spice
7.5% ABV
Reverend Nat's Hard Cider's Providence Traditional New England cider receives an added fresh burst of appley-ness while still maintaining a vinous and spicy flavor made by fermenting with thousands of pounds of raisins, cinnamon, nutmeg and dark muscovado sugar — sourced from the tiny island of Maritius off Africa — followed by a three months been sit on toasted American oak. This medium bodied Abbey Spice with mild carbonation tastes like an apple pie — rich, brown sugar, caramel and green apples.
---