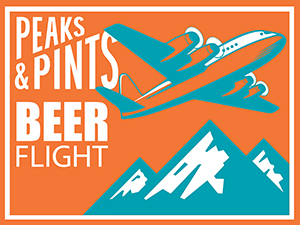 Craft beer is best fresh. If you drink a fresh hop IPA the day it is bottled or canned, it will be at its peak. Never again will it taste so good. Day by day, by degrees, its lushness will fade. Beer, unlike vinegar and Pop Tarts, is not a fixed food product. So why then do brewers barrel-age beer? Because the barrel's porous, wood allows for very slow oxidation, which can make darker, malty beers more complex. Wood can also host microflora, bacteria that add the sourness to wild ales and lambics. The barrel's former resident — the wine or bourbon or whatever that first made its home there — is also important. While bourbon is always aged in charred American oak, other whiskeys are aged in different woods. American oak is most common, contributing notes of vanilla, coconut, and leather. Today, Peaks & Pints presents a to-go flight of beer aged in whiskey barrels — a flight we call Peaks and Pints Pilot Program: Whiskey Barrels On The Fly.
Peaks and Pints Pilot Program: Whiskey Barrels On The Fly
Triceratops Little Critics Sour Pennsyltucky on Cherries
4.8% ABV
Triceratops Brewing joins the rest of the American brewers rewriting the rules on sour beers. They use traditional sour styles as a jumping off point to experiment with techniques such as hops additions for bittering and aroma, racking sour beers into freshly used wine or spirit barrels, blending batches, adding adjuncts, or, in the case of Triceratops, sour a lager on cherries then barrel age it. Little Critics is soured with Triceratops' house culture and conditioned on 30 pounds of Washington-grown cherries for a pleasing tartness, a restrained level of acidity, and an approachable 4.8 percent. Extended aging in Heaven Hill whiskey barrels further enhances the beer's complexity.
Skookum Deep Color
10.3% ABV
Skookum Brewery's Deep Color old ale recalls the type of beer brewed before the Industrial Revolution, stored for months or even years in unlined wooden vessels known as tuns. The beer would pick up some lactic sourness because of wild yeasts, lactobacilli, and tannins in the wood. The result was a beer dubbed "stale" by drinkers: it was one of the components of the early, blended porters. Skookum brewed a strong old ale, added cherry wood smoke malt then aged in in whiskey barrels for 10 months. The result is Deep Color with deep notes and aromas of dark fruit, tobacco, oak, and mild smoke.
Old Schoolhouse Blazing Barrels
11.5% ABV
Aging a stout in used port barrels adds fruity flavors, making the beer taste like chocolate covered cherries. Aging a stout in used whiskey barrels adds notes of caramel, vanilla, and hints of chocolate. Blending a stout with barleywine can add a pleasant cherry pit, almond characteristic that isn't apparent in either of the parent beers. Aging an Old Schoolhouse Brewery stout in port barrels, Woodinville Whiskey barrels then blending it with a 10-percent barleywine makes for a unique, intense, and delightful beer.
Oskar Blues BA21 Vol. 7
11.5% ABV
In 2020, Oskar Blues Brewery introduced BA20, a series of limited release barrel-aged beers infused with ultra-premium ingredients. Brewers experimented with innovative flavor and barrel combinations with Volumes 1-4 from bourbon, almonds and vanilla to rum and pistachios. BA21 carries the project into 2021 with Volume 7 just landing. This gigantic whiskey barrel-aged stout is infused with graham crackers, chocolate, and cherry.
Dugges Smooth
15% ABV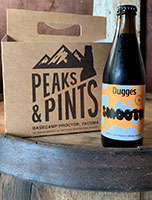 In 2005, Mikael Dugge Engström opened Dugges Ale & Porterbryggeri (Porter Brewery) in Landvetter outside Gothenburg, Sweden. Today, Dugges Bryggeri is on the top one hundred brewers in the world list, which isn't a surprise since they brew some phenomenal, world-class beers including Smooth, an imperial stout that Engström let rest on two different types of Swedish High Coast Whisky oak barrels. A few of the barrels were peaty and the others, you guessed it, smooth. It hits the nose with chocolate, booze, malt, wood, and caramel. On the tongue, expect a decent amount of malt, subtle caramel notes, a good shot of whiskey, a fair amount of chocolate with mild peat and oak on the finish.
LINK: Peaks & Pints cooler inventory
---