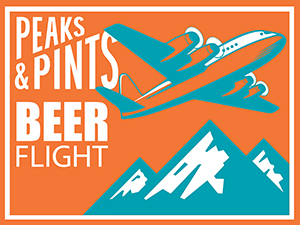 It's strange the 2021 Washington Beer Awards were held this weekend in Puyallup — but then again, all of 2021 has been strange for craft brewers, who have had to deal not just with the effects of the continuing pandemic, but also with a staffing shortage, a can shortage, social issues, and festivals that have been canceled, rescheduled, and then canceled again. Despite being forced to cancel the festival portion of Washington Beer Awards — the Washington Brewers Festival held at Marymoor Park in Redmond during Father's Day Weekend — the Washington state brewing community rallied together to make this year's Washington Beer Awards a thing. Friday, Nov. 5 at the Washington State Fairgrounds, the winners of the 8th annual WBA were announced at an event hosted by the Washington Brewers Guild. The panel of judges evaluated 1,100 beers submitted by 142 breweries from across the state. Today, Peaks & Pints suggests you grab a few winning beers we happen to have in our cooler in a to-go flight we're calling Peaks and Pints Pilot Program: 2021 Washington Beer Awards On The Fly.
Peaks and Pints Pilot Program: 2021 Washington Beer Awards On The Fly
Chainline Polaris Pilsner
4.9% ABV, 30 IBU
BRONZE, BOHEMIAN STYLE LAGERS: Released in 2012 by the Hop Research Institute in Hull Germany. Polaris hops were bred as a dual purpose hop with an incredibly high alpha acidity and essential oil content that leads to very bold tastes and distinctive flavors — including contributing to bold floral and fruit notes with a slight hint of mint, which describes Chainline Brewing's Polaris Pilsner. The 2016 Great American Beer Festival silver medalist pilsner has a mint-like flavor while still maintaining its Noble hops lineage. Bohemian malts and yeast provide the body you would expect from this style pilsner.
Everybody's Vienna Lager
5.3% ABV, 20 IBU
BRONZE, VIENNA STYLE LAGERS: Named after the city from which this style originates, Everybody's Brewing kept this one true to its roots. Brewed with Weyermann Pilsner, Gambrinus Vienna, Weyermann CaraAroma, and Simpsons Chocolate malt, plus Magnum, Hallertau, and Tettnanger hops, this Vienna lager glows with bronze color has sports a nice malty aroma giving way to flavors reminiscent of warm baked bread and roasted nuts.
Postdoc Kilty MacSporran Scottish Ale
5.7% ABV, 18 IBU
BRONZE, SCOTTISH ALES: Yes, Postdoc Brewing's Kilty MacSporran Scottish Ale pours a little lighter than other Scottish ales, but we enjoy this beer for its firm caramel tones, smooth body with a slightly sweet flavor and dry finish. It's not a hearty in-your-face maltiness, but a great beer for people who aren't into all those hops.
Reuben's Robust Porter
5.9% ABV, 30 IBU
BRONZE, ROBUST PORTERS: Home brewer-turned-pro Adam Robbings developed his Robust Porter recipe using British malts particular to Windsor, about 25 miles west of London, where he grew up. Eight different grains are used to create this Reuben's Brews multiple award-winning beer, pouring a deep brown with a creamy tan head like it has some weight. Roast malts are the star in both aroma and flavor that's nutty and slightly sweet with an espresso bitterness balanced by a touch of creamy vanilla, chocolate, and caramel sweetness, without being cloying or off putting.
Icicle Alpenhaze
6.3% ABV, 30 IBU
SILVER, JUICY OR HAZY PALE ALES: Icicle Brewing's signature hazy is a bright, tropical, and juicy IPA brewed with Mosaic, Citra, El Dorado, and Simcoe hops, giving it notes of mango, pineapple, tangerine, and apricot that excite the nose and palate. The malt profile provides a body that ends each sip with a light and pillowy mouthfeel.
Stoup Citra IPA
5.9% ABV, 50 IBU
SILVER, AMERICAN-STYLE STRONG PALE ALES: Team Stoup Brewing believes in building beers that unroll with a distinct start, middle, and finish. This formula works well on their IPAs, especially their flagship Citra IPA. A first sniff will elicit images of tropical fruit and citrus thanks to a healthy dose of Citra hops. Next, pale malt sweetness keeps things in check with slight bitter, citrusy fruits and grapefruit. Citra IPA finishes dry with very bright, tangerine and Meyer lemon character lingering.
Wet Coast Scofflaw CDA
7.1% ABV, 65 IBU
SILVER, AMERICAN-STYLE BROWN AND BLACK ALES: No American craft beer style has ever generated more contentious debate than black IPA, when it comes to nomenclature. From the moment that people started calling this style anything, there's never been consensus on what exactly they should be called. Basically, it's a hoppy IPA with mild to moderate roastiness that is sometimes derived via debittered black malts such as Carafa and dark wheat malt, lending a crisper edge and the type of dry, coffee-like flavor you find in the German black lager style, schwarzbier. Wet Coast Brewing's Scofflaw CDA is absolutely an IPA — more so than many black IPAs. Columbus, Falconers Flight, Amarillo, and Simcoe hops provide a hit of citrus, resin, and smooth bitterness. While dark wheat malt gives the beer its black color and just a hint of roast character, the beer leaves the palate slightly dry, accentuating its hop character.
Two Beers Wonderland Trail IPA
7.1% ABV, 84 IBU
GOLD, AMERICAN-STYLE INDIA PALE ALES: Two Beers Brewing's Wonderland Trail IPA is the product of nearly two years of recipe development. Featuring a seamless blend of Washington-grown hops, this flavorful Northwest-style IPA is brewed with Cascade, Amarillo, Mosaic and Citra hops, then dry hopped with Citra and Mosaic hops, complemented by 2-Row, Vienna, and Munich malts. On the nose, a slightly sweet aroma of tangerine is followed by a wave of citrus and passion fruit on the palate, finishing clean and refreshing.
Dwinell Summer Blush
6% ABV
GOLD, BRETT BEERS: Since opening in August 2017, Dwinell Country Ales has been named one of the "The Six Best Washington Breweries Outside Seattle" by The Stranger, as well as "Top Three Small Breweries" in the country by beer writer Jeff Alworth for Craft Beer & Brewing magazine. Located in downtown Goldendale, Washington, Dwinell founder Justin Leigh not only brews Belgian style farmhouse ales, but also mixed-culture beers, delicately hopped rustic ales, barrel-aged "country ales" aged in barrels from nearby wineries in the Columbia River and Yakima Valleys, natural wine, and French style ciders. A rustic pale ale fermented in the barrel with a blend of Norwegian farmhouse yeasts, aged in oak for a year, re-fermented over Summer Blush nectarines grown by Gunkel Orchards in Maryhill, Washington, and conditioned in oak with fruit for an additional 8 months.
Mirage Ray
5% ABV
GOLD, BELGIAN SOUR AND WILD ALES: Mike Dempster opened Mirage Beer in the Seattle South Park neighborhood, south of Georgetown, in November 2017. He earned his chops brewing at Greenpoint Beer Works in Brooklyn, Buoy Beer Co. in Astoria, and Wingman Brewers in Tacoma where he helped Peaks & Pints brew a recreation of Bert Grant's Perfect Porter called Perfect Proctor Porter for our opening day, Nov. 1, 2016. Even though Mirage is currently looking for a new permanent home, this beer began in the Winter of 2020 with a base of spontaneously inoculated wort brewed in the methode traditionnelle and fermented in freshly emptied Cabernet Sauvignon puncheons. In the Spring of 2021, it was blended with a saison brewed with aged hops that spent 36 months in freshly emptied Pinot Noir barrels. It's naturally conditioned in the bottle with Brettanomyces.
Heathen Reindeer Tears
12% ABV, 94 IBU
GOLD, WOOD & BARREL AGED BARLEYWINES: Heathen Brewing's Reindeer Tears bourbon barrel-aged American barleywine pours cloudy rosé copper with a cream-colored pillow of fine foam that reduces after a minute or so. The nose is brown sugar, burnt orange, wheat, bourbon, and citrus. The Tears begins with smooth malts molasses, a bit of toffee followed by caramel. As it warms sweet dark fruity esters appear. As the Tears rolls the bourbon, booze and light spicy oak note along with blunted aged pine hops and spicy wintertime cookies cut perfectly into the thick bodacious sweetness.
Trap Door Flamingo Croquet
6.8% ABV
BRONZE, COLLABORATION BEERS: Brewed with Von Ebert Brewing in Portland's Pearl District, this Trap Door Brewing hazy IPA utilizes C-hops for heavy citrus aroma and flavor with a hint of pine.
LINK: Peaks & Pints cooler inventory
---