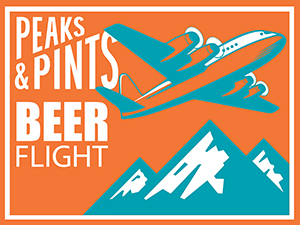 As you set your sights and stomach on your Thanksgiving feast; consider cranberries. No doubt you're thinking turkey or roast ham, mashed taters, glazed carrots, finger stuffing black olives, parsnips, Brussels sprouts, and Yorkshire pudding, but don't forget the most important condiment: cranberry hard cider. You should have saw that coming. After all, it's Monday, which means Peaks & Pints suggests a cider flight to-go. Cider has roots in the holidays after all — going back to the Middle Ages, people would go wassailing to orchards in the English countryside, chanting recitations in hopes of spurring a good harvest in the coming year. And many cranberry ciders find a way to the market during the holiday season, including the ones we chose for our flight, Peaks and Pints Monday Cider Flight: Cranberries.
Peaks and Pints Monday Cider Flight: Cranberries
Portland Crangerine
5.1% ABV
Portland Cider Company released Crangerine for the holiday season. A medium sweet, crimson cider, Crangerine highlights tart and juicy tangerines complemented by fruity Oregon-grown cranberries. The citrus zest of the tangerines interacts with the fruitiness of the rich red cranberries for a playful spin on a fall classic.
Yonder Cashmere
6.9% ABV
Yonder Cider's winter seasonal Cashmere, is inspired by one of their favorite cocktails, the Negroni. Made with tart cranberry, ⁠dark cherry and a hint of bitter orange, Cashmere hits the nose with orange peel and berry, pairing beautifully with notes from one of their favorite cider apples, Ashmead's Kernel. ⁠
Tieton Cranberry Cider
6.9% ABV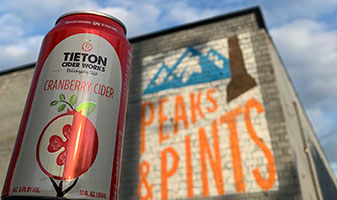 If you dig sweet and tart flavors, then Tieton Hard Cider's Cranberry Cider is for you. The Yakima Valley cidery blends fresh pressed cranberry juice into an already upbeat blend of fermented apples for fruit and spice on the nose. The taste is semi-sweet apples and tart cranberry with warm spices. The finish is medium to long tart and astringent.
LINK: Peaks & Pints cooler inventory
---