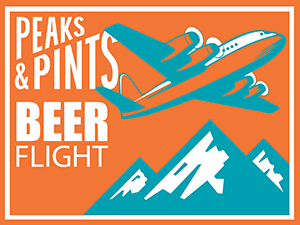 Looking for excuses to crack open a beer during today's nice weather, whether you're having a cookout, sitting on the stoop watching construction, or just celebrating another Tuesday well-done? Consider a wheat craft beer — the mellow, citrusy brews that are many people's first foray into craft-beer drinking. As an overarching label, "wheat beer" can mean an awful lot, and this is likely something that craft beer drinkers who are just beginning to explore the world of beer wouldn't fully understand. Ultimately, all the term "wheat beer" really implies is a brew where more than 50 percent of the fermentables are derived from malted wheat, although some also make use of unmalted wheat, which delivers a subtly different profile. But beyond that, there are a plethora of styles: American pale wheat. Hefeweizens, both American and German in style. Belgian wits. Berliner weisse. Gose. The list goes on. Peaks and Pints presents four wheat beers for our beer flight Peaks and Pints Pilot Program: Wheat Beer Flight.
Peaks and Pints Pilot Program: Wheat Beer Flight
Occidental Hefeweizen
4.7% ABV, 4 IBU
The German Beer Purity Law — Reinheitsgebot — is six years past its quincentennial: 506 years of absolutely nothing but barley (or wheat), hops, water, and yeast. Not so much as a spruce tip or cacao nib may defile anything called "beer." Occidental Brewing's brewmaster Dan Engler mostly brews beers in the spirit (if not the letter) of the Reinheitsgebot. Opening in 2011 in Portland's St. Johns neighborhood, Occidental makes some of the best German-style beers in the Northwest, including their authentic Bavarian Hefeweizen. It's hefeweizen makes one want to throw on a pair of lederhosen over your flannel. If you like wheat beer — heck, even if you hate it — you must try this sweet, banana- and clove-scented hefeweizen.
Weihenstephan Hefeweissbier
5.4% ABV, 14 IBU
Weihenstephan lays claim to being Germany's oldest continuous operating brewery, tracing its roots to an abbey brewery officially licensed in 1040, with evidence in the abbey's records that it was receiving hops (and therefore probably brewing) as early as 768. Today the brewery is owned by the State of Bavaria and is the "house" lab for a top brewing- and fermentation-sciences school. Everything the brewery produces is well worth sampling, but the Hefeweissbier is something special. "Weiss" means white in German. As a specific style of top-fermented "white" wheat beer, Bavarian weissbier is traditionally made with malted wheat and malted barley to produce a pale-colored, effervescent beer. The yeasts contribute the banana and clove aromas associated with the style. You might even detect some bubble-gum-like flavors. Weihenstephan Hefeweissbier is the gold standard of the style and is hard to beat.
Avery White Rascal
5.6% ABV, 22 IBU
Another variety of "white beer" is Belgian witbier, which incorporates coriander and orange peel. In hefeweizen, a type of weissbier common in the U.S., the yeast is not filtered out, which creates a thick, white cloudy appearance. As Avery Brewing's flagship beer and silver medal winner in the Belgian Witbier category at the World Beer Cup 2018, White Rascal is a tribute to the history and time-honored tradition of the Belgian witbier. Avery uses authentic Belgian yeast and real Curaçao orange peel and coriander, akin to what was used by 15th-century brewers from the village of Hoegaarden.  Citrus and spice are prevalent in the taste of this witbier, but here, the barley also adds to the complexity. Amid all of this you'll notice a very thick body, making this wit the most filling one that we have tried.
Ayinger UrWeisse
5.8% ABV, 13 IBU
Dunkelweizen, a dark German wheat beer, is also a subcategory of weissbier. Ayinger UrWeisse is a such a wheat brewed with darker malt (that means it's been roasted longer). Think of it as a stronger hefeweizen, in both flavor and ABV. Copper in color with tiny, active bubbles and a pillowy head, there was also some haze and suspended yeast in this beer. Smelling more of nutmeg and spice than the banana of the brewery's Bräu-Weisse, the flavor here was also sweeter. Some spice was still present, but there was only a hint of banana in the taste along with sweet notes of toffee.
LINK: Peaks & Pints cooler inventory
---