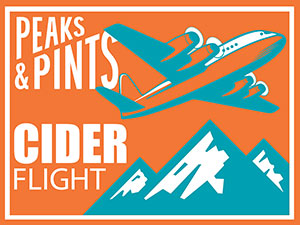 In 2015, home fruit fermenters Marshall Petryni and brothers Andy and Ryan Short opened Greenwood Cider Co. in Seattle's Greenwood neighborhood. It went from hobby to 600 gallons a month quick. Petryni and crew make their ciders with wild and foraged fruits picked from around Seattle, as well as deep within the surrounding forests — including apples picked from local farms, small homesteads, and abandoned orchards. Greenwood presses and produces everything in Seattle, with one foot in modern practices and the other in traditional cidermaking. Today, Peaks & Pints suggests taking home a couple Greenwood ciders in a flight we call Peaks and Pints Monday Cider Flight: Greenwood.
Peaks and Pints Monday Cider Flight: Greenwood
Greenwood Bitter Blend
7.5% ABV
Vilberie is a traditional French hard-cider apple producing a very tannic but sweet bittersweet juice. Red-fleshed Redfield is more of a cider apple with balanced of acids and tannins. Kingston Black is a definitive English hard cider apple that produces a very high quality bittersharp juice. Vilberie, Redfield, and Kingston Black lead this bold and diverse heirloom apple blend, tamed slightly by the inclusion of a few table varieties. It's light-bodied, dry, and astringent with citrus on the nose and a leather and burnt apple finish.
Greenwood Lingonberry
7.8% ABV
Lingonberries are popular in Scandinavia, but you probably haven't ever tried them, unless you're lucky enough to have a Swedish grandmother who made you pancakes with a side of lingonberry jam. These bright red arctic berries have been around for centuries, and people squeeze them into juice or jam; sometimes they're cooked in stew, but they're not eaten raw, because their tartness will make you pucker like cranberries do. Lingonberries also make delicious cider, at least in the hands of Greenwood Cider. The cidery forages for local lingonberries in their wild and domesticated forms. A relative to blueberries and cranberries, these bright-red berries add tartness and a little color to their semi-dry Washington apple base.
LINK: Peaks & Pints cooler inventory
---