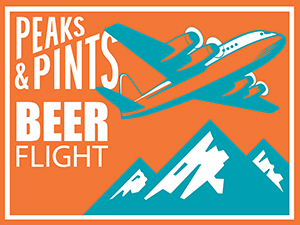 In 2009, Neil Fisher began home brewing with friends in his garage. Fisher's driveway held a lot of friends' cars during those homebrewing days, and they all drank a lot of those homebrewed beers. Then Fisher threw down the gauntlet. He announced to his buds that if he medaled at the homebrew competition attached to the 2014 Big Beers, Belgians and Barleywines festival, which was held at the time in Vail, Colorado, then he would consider opening a brewery. He won two medals. Eleven months later he poured his first beer at his WeldWerks Brewing in Greeley, Colorado. His hefeweizen was turn heads before he brewed Juicy Bits, a hazy, juicy IPA that still is considered one of the best beers in Colorado. Today, Fisher and crew brew 300-plus beers in their downtown Greeley 15 bbl 3-vessel steam brewhouse. Since Peaks & Pints received a new shipment of WeldWerks beer, we thought it's time to offer a to-go beer flight of Fisher's handywork — a flight we're call Peaks and Pints Pilot Program: WeldWerks Beer Flight.
Peaks and Pints Pilot Program: WeldWerks Beer Flight
WeldWerks Peach Pie Berliner
5.1% ABV
WeldWerks made this pastry sour by adding milk sugar to their kettle-soured Berliner base, then fermenting it with more than 500 pounds of peach puree. After fermentation, they age the finished beer with graham cracker and vanilla to give it their signature pie character. Last, they add a dash of cinnamon and nutmeg to top off the pie flavor.
WeldWerks Triple Berry Cheesecake Berliner
5.8% ABV
Pastry Berliner weisse conditioned on 2,000 pounds of blueberry, raspberry and strawberry puree, plus cream cheese, milk sugar, vanilla, and graham cracker.
WeldWerks Starry Night
6.5% ABV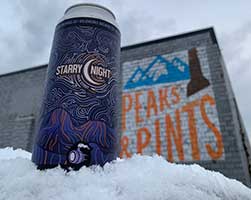 Milk stout brewed with milk sugar, hazelnut, toasted coconut, and milk chocolate Starry Night paints the inside of your nose with hazelnut, pecan nuts and caramel. With low bitterness and subtle sweetness, the flavor profile mirrors the aroma with the prominent hazelnuts, supportive yet distinct flavors of caramel, and pecan nuts. Expect an oily, dark chocolate aftertaste.
WeldWerks Juicy Bits
6.7% ABV
Weldwerks flagship IPA features a huge citrus and tropical fruit hop character from the Mosaic, Citra, and El Dorado hops and softer, smoother mouthfeel from the adjusted water chemistry, higher protein malts, and lower attenuation. The result is a beer reminiscent of citrus juice with extra pulp, thus the name Juicy Bits.
WeldWerks River Witch
7.5% ABV
Author Kimberly Brock 's The River Witch is a magical and bewitching story that, like a river, winds its way through the soul. WeldWerk's River Witch is a hazy double IPA brewed with Citra, Mosaic, and Sabro hops that winds its way over the tongue with notes of pineapple, tangerine, and guava.
WeldWerks Robo-Boogie
8% ABV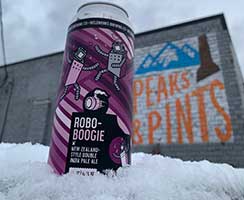 Robo-Boogie Hazy IPA is a dive into the deep abyss of New Zealand-specific hops, namely Nelson Sauvin, Motueka, Rakau, and Wakatu. All are prized for their unique characteristics, from white grape and earth to every corner of the orchard, and this hoppy beer hits the nose with zesty citrus, grapefruit, tangerine, white grape, onion, grass, and melon. On the tongue, expect zestier citrus, a big tangerine note, and pithy grapefruit leading to some grassy green notes, as well as mango and white grape with a citrus and gooseberry finish.
WeldWerks Transmountain Diversion
8.7% ABV
A collaboration with Casey Brewing & Blending in Glenwood Springs, Colorado, this imperial hazy IPA is brewed with Nelson Sauvin and a ton of Citra hops over just enough malt character and creaminess to balance the massive hop load. The result is a delicious, hoppy, tangy, creamy IPA with tropical and pear notes.
LINK: Peaks & Pints cooler inventory
---