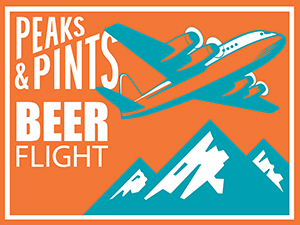 First things first… SNOW. Snow prompts Peaks & Pints to think that the All Mighty, while he may not shoot craps with the universe as Albert Einstein said, at least has a sense of humor. She makes existence uncertain by conjuring up sea-level snow every now and then, but at no apparently regular interval, and throws in a few earthquakes, ice storms, floods and the like now and then just to let us know who is boss. Now what? Well, the original downhill pioneers damn near strapped entire tree trunks to their feet, doggedly steering them like great monoliths. Those folks laughed and laughed — even though they were working up one helluva rash. Times have changed, and so have the equipment, clothing, and attitudes. What hasn't changed is the thrill one feels when the planks are strapped on. So, strap them on and make your way to Peaks and Pints. We'll be open for all your sandwich and craft beer, cider, and wine needs, complete with a to-go flight, Peaks and Pints Pilot Program: Snow Beers.
Peaks and Pints Pilot Program: Snow Beers Flight
Deschutes 2022 Jubelale
6.7 ABV
Deschutes Brewery's former head brewer John Harris originally brewed Jubelale for Christmas and modeled it after an English strong ale or winter warmer. He brewed that first batch on October 26, 1988, and according to the brewing log, it contained pale malt, caramel malt, chocolate malt, and dextrin malt, and the hops used were Galena, Cascade, "Wills" (assuming Willamette), and Tettnanger in the hop back. Starting gravity was 1.065, and the resulting alcohol was 6.25 percent by volume. The Bend, Oregon brewery has been producing the robust and malty but approachable Jubelale winter festive ale every year since. Its spicy-malt flavor, cocoa, dried fruit, and toffee notes ignite cozy warmth on the taste buds — perfect for any number of winter pastimes, like making toys.
Double Mountain Fa La La La La
7.6% ABV
Winter warmers are top-fermenting ales that offer plenty of malty and sweet flavors alongside a balanced hop character. Many of these tasty brews are blended with spices, which give the style its trademark "warmth." Double Mountain Brewery's winter warmer is a big, malty hop bomb. Brewer Matt Coughlin loads the brewery's holiday brew up with Gambrinus Organic Pilsner, Munich malt, imported Crystal malts and enough Centennials to fill Santa's toy bag.
Kulshan Coffee Kitten Mittens
8% ABV
Kulshan Brewing adds four different malts — 2-row, Chocolate, roasted barley, and Munich — to Kitten Mittens Winter Ale giving it the rich, medium-bodied winter warmer we adore with a nose of milk chocolate and a touch of brown malt. The body strikes a nice mix of easy malty notes and medium sweet chocolate balanced by earthy hop notes, thanks to the Apollo, Willamette and Fuggle hops. Blended with cold brewed, Mexican roast coffee from Maniac Coffee Roasting, this version of Kitten Mittens boasts notes of raisin, cinnamon, and toasted nuts.
Boundary Bay Cabin Fever
8.5% ABV
Brewed with Zeus, Simcoe, Willamette and Celeia hops and five malts — including Chocolate malt and oats — Boundary Bay Brewing's winter seasonal Cabin Fever is rich, malty, and deceptively strong. With an extended conditioning period, this winter warmer has a smooth mouthfeel. The aroma has a rich, nutty maltiness with some vanilla, raisins, caramel, and bread. The flavor leans sweet nutty initially and then opens for more of a balance with spicy hops that are not strong and end up creating a lovely lingering bready aftertaste. Nice balance.
StormBreaker Winter Coat
7.5% ABV, 35 IBU
Peaks & Pints suggests you wear a Winter Coat today. Brewed with Chocolate and Special B malts, Fuggle and Sterling hops, and pomegranate and dark rum soaked figs, StormBreaker Brewing's winter warmer will keep you warm.
LINK: Peaks & Pints cooler inventory
---