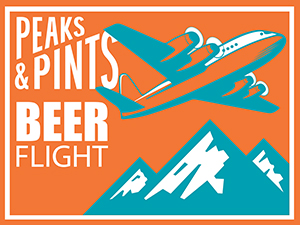 Looking for excuses to crack open a beer during the summer, whether you're having a cookout, sitting on the stoop watching the traffic jams, or just celebrating another Wednesday well-done. Consider a wheat craft beer — the mellow, citrusy brews that are many people's first foray into craft beer drinking. As an overarching label, "wheat beer" can mean an awful lot, and this is likely something that craft beer drinkers who are just beginning to explore the world of beer wouldn't fully understand. Ultimately, all the term "wheat beer" really implies is a brew where more than 50 percent of the fermentables are derived from malted wheat, although some also make use of unmalted wheat, which delivers a subtly different profile. But beyond that, there are a plethora of styles: American pale wheat. Hefeweizens, both American and German in style. Belgian wits. Berliner weisse. Gose. The list goes on. Peaks and Pints presents five wheat beer for our to-go beer flight, Peaks and Pints Pilot Program: Weisse, Weizen, and Wit.
Peaks and Pints Pilot Program: Weisse, Weizen, and Wit
Everybody's Good Ad Weisse Blood Orange
4% ABV, 1 IBU
The name of the style, Berliner weisse, is protected by German law, which states that a beer should only be called by that name if it is brewed in Berlin, just as a Kölsch must be brewed in Köln. At the height of its popularity during the late 19th century, Berliner Weisse was the most favored alcoholic drink in Berlin, and nearly 50 breweries were producing it. However, it fell by the wayside as pale lagers became the beers of choice worldwide. Currently in Berlin there are only about three makers. With its bubby effervescence and tartness, the centuries-old light-bodied sour wheat beer is making a comeback. The style is known for being highly carbonated with acidic sourness. It has very little hop bitterness or malty sweetness; rather a tart sourness stands out. Everybody's Brewing's Good Ad Weisse Blood Orange Berliner weisse is brewed with German Pilsner malt and malted wheat, and then fermented in the traditional German way, using pure lacto cultures to give the distinctive tartness, and, of course, a dose of blood oranges.
St. Bernardus Wit
5.5% ABV, 10 IBU
St. Bernardus Wit is a traditional Belgian white beer developed and brewed in collaboration with the legendary Master Brewer Pierre Celis, the Godfather of Hoegaarden and Celis White. A witbier or Belgian wit (white) beer is commonly made with pale barley and unmalted wheat, sometime oats, and in the case of St. Bernardus Wit, a second fermentation in the bottle. This wheat beer is famed for its zesty tastes of coriander and orange, with background touches of spicy cloves, fragrant with fruit and citrus. These zingy herbs combine with the creaminess of the wheat to produce a beer that is well balanced. The mild mouth feel produces a lovely interaction between the sweet malty taste and the refreshing touches of acid to produce a feeling of freshness overall.
Dru Bru Bavarian Hefeweizen
5.1% ABV, 13 IBU
The hefeweizen has been around a long time. Some beer historians say it was brewed as far back as the 11th century. In German, hefeweizen (pronounced HEH-feh-vite-zen) means yeast wheat, so called because the beer is traditionally unfiltered, leaving the tiny particles of yeast sediment to turn the golden beer cloudy and turbid. It may be this suggestion of solidity that leads Germans to occasionally refer to hefeweizen as bottled bread. The beer style can have a variety of flavors including clove, vanilla, apple, banana, even bubblegum. They have low amounts of hoppiness. Hefeweizens are made with more than 50 percent wheat malt, which German law requires. Such mandates and customs do not apply in the United States. Nonetheless, many American beers are called hefeweizen or claim to be made in the hefeweizen style. German beer traditionalists probably prefer the name weissbier. Dru Bru's version offers aromatic notes of clove and banana, while German-grown wheat and barley malts provides for an array of bready flavors. It's fragrant, balanced and drinks smooth.
Ayinger Urweisse
5.8% ABV, 13 IBU
"The union of wheaty freshness and dark malt often produces a fullness of taste and complexity," explains the world-famous English beer commentator Michael Jackson about German-style dunkelweizen, which is a cross between a German-style dunkel and a hefeweizen, such as Ayinger Urweisse. This amber-colored dunkelweizen hits the nose with clove and ripe banana notes plus a touch of alcohol. At the front of the taste, modest caramel malts reminiscent of artisan bread crust tease the tongue before deepening into clove spice and sweet banana tango.
---