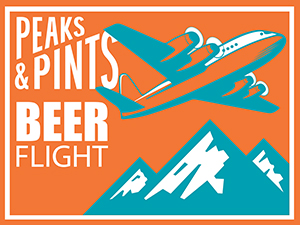 After a few rainy and cloudy months of quarantine, looks like today might be fairly nice. Since regular summer activities like traveling for vacation or going to the pool or drinking a margarita at an outdoor restaurant are not readily available, it's time for the humble picnic to shine as it's International Picnic Day. If you spread your blankets out far enough, it's a great way to hang out with friends from a safe distance. Now, Peaks & Pints is not going to tell you to bring alcohol to your picnic because Washington doesn't allow for open containers, except in designated areas so check out WAC 352-32-210. Since it is International Picnic Day, we present Peaks and Pints Pilot Program: International Picnic On the Fly, a to-go flight of international beers.
Peaks and Pints Pilot Program: International Picnic On the Fly
Badische Staatsbrauerei Rothaus Pils Tannen Zäpfle
5.1% ABV, 32 IBU
GERMANY: Be sure to pack napkins, a plastic bag to put trash in, sunglasses or a hat, sunblock, a deck of cards, and a portable speaker. You need a beer to enjoy while setting up the picnic spot — a pilsner. The Rothaus Brewery is Germany's highest brewery by elevation, at 1,000 meters above sea level. Situated in Germany's beautiful Black Forest, the brewery was first established in 1791. Their Pils Tannen Zäpfle is crisp, bright and clean with big lemon presence and subtle grassy hops.
Samuel Smith Organic Strawberry Fruit Beer
5.1% ABV, 16 IBU
ENGLAND: If you're with a group, Mad Libs or another kind of interactive game could be fun on a picnic. OK, ere comes the fruit! One of the oldest operating breweries in the world, Samuel Smith's Old Brewery has been brewing with the same derivative yeast strain in the same stone vats for the last 255 years. They even keep a small team of Shire horses — a breed that traditionally pulled brewery wagons — to deliver beer around its hometown of Tadcaster. But for all this tradition, Samuel Smith is remarkably modern. All but one of its beers is vegan and the brewery has an entire line of organic ales, including its Strawberry Fruit Beer. According to Samuel Smith's, it's brewed at All Saints Brewery in Stamford, England using all manually operated equipment. Barley and wheat are combined to make an ale, fermented and aged for an extended period, then taken to Samuel Smith's brewery in Tadcaster, England. It is at this stage where they blend in pure strawberry juice to create a fruit-forward ale with malt and some bittering hops on the back.
Unibroue La Fin du Monde
9% ABV, 19 IBU
CANADA: Having a cooler of some kind is really an advantage for a good picnic. Pop an ice pack in there and your food won't get weird and sweaty. And, be sure to bring this tripel as it reminds us of the beach with the golden orange color providing the sunset, the pineapple and nut aromas giving it a tropical nose, and the strong alcoholic taste, followed by sweetness, completes the sense of drinking on the beach, minus the cocktail and the mini-umbrella. Even with its tropical vibes, Unibroue La Fin du Monde upholds its light Belgian character. A honey sweetness is tempered by a moderate bitterness that comes in late, tongue tickling and peppery. It's clear why this is so well loved among craft beer enthusiasts. Exotic and ethereal, it rises above the level of mere beer.
Dugges Coffee Vanilla Deluxe
15% ABV
SWEDEN: Dugges brewed this imperial stout with plush vanilla and da Matteo roasted Colombian Tabi coffee. Then, they let it mature in whisky barrels. The aroma leads with scotch whiskey barrel, then coffee with competing chocolate and caramel malts. Taste is a bit more balanced, although hot with notes of barrel, roast, chocolate, caramel, and some peat. It's a thick and strong stout that finishes strongly sweet. Remember to give a hoot and don't pollute!
---