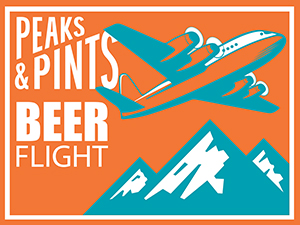 In fall 2016, three of Portland's most respected food and drink professionals opened Wayfinder Beer in a former Central Eastside Industrial District warehouse. Charlie Devereux, the co-founder of Double Mountain Brewery; Rodney Muirhead, the barbecue master at Northeast Portland's Podnah's Pit; and Matt Jacobson, the force behind late-night pizza sensation Sizzle Pie and hard-charging rock label Relapse Records, opened the brick-walled beer hall with a 10-barrel brewing system. Masterbrewer Kevin Davey brought his experience at Chuckanut Brewery, Firestone Walker and Gordon Biersch, where he took home a 2014 Great American Beer Festival gold medal for his Munich-style Helles. Today, Peaks & Pints presents a to-go flight of Wayfinder Beer that we call Peaks and Pints Pilot Program: Wayfinder On the Fly.
Peaks and Pints Pilot Program: Wayfinder On the Fly
Wayfinder Kollaps
4.7% ABV
Wayfinder Kollaps is a Kölsch. The city of Cologne on the Rhine river in western Germany is renowned for its "Kölsch" beer. Although it utilizes a top-fermenting ale yeast, Kölsch is fermented relatively cold and further cold-conditioned. The purity law of 1516 outlaws using any wheat in lager beer, but since it's an ale, Kölsch uses up to 20 percent. Wayfinder's Kollaps follows the historic recipe for a clear and yellow color, with a slightly fruity aroma, and a sharp crispness. Oh, in its homeland, Kölsch is served by the tray-full and placed in front of customers ad nauseum, with servers tallying up how many 0.2-liter cylindrical glasses, called stanges, have been placed down with a system of ticks on their coaster. Since this is a to-go flight, your Scooby-Doo cup will be fine.
Wayfinder Czech AF
4.9% ABV
Wayfinder's Czech pilsner is a Peaks & Pints Tournament of Beer veteran. The public nominated their flagship beer for our 2019 Tournament of Beer: Northwest Pilsners and this year's Tournament of Beer: West Coast Flagships. The Portland brewery's Czech AF is decocted, meaning part of the Bohemian mash is removed, boiled, and returned it to the main mash, which makes the wort more gentle and fresh, with brighter color, rich flavor, somewhat scratchy malt, sharp bitterness in mid palate, a dollop of butter, and a touch of sweet fruit, thanks to the Saaz hops.
Wayfinder Flower In the Kettle
6.7% ABV, 62 IBU
Kevin Davey brewed this hazy IPA with kettle loads of juicy Mosaic hops balance between Amarillo and grapefruit-forward Simcoe. The nose has a nice, juicy mango note along with peach, honey, touch of mango and a little citrus. The palate opens juicy and fruity with mango nectar, fresh orange juice, mandarin, and some peach. The mid palate is clean and juicy with minimal bitterness. It finishes juicy and mildly sweet. We're not sure if Flowers In The Kettle is related to the flavor or something completely unrelated, but we know no flour was added.
---