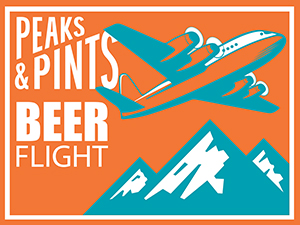 Happy Father's Day! Peaks & Pints knows you'll have to change up tradition this year. No brunch. No trip to Crazy Clyde's House of Unmatchable Neckties. No afternoon beer drinking on a giant lawn with people wearing crazy hats. Yes, the last one hurts. You live for Father's Day at the Washington Brewers Festival every year, but this year the festival is stored away like a World's Best Dad plastic trophy. Good news: You can kind of participate in the festival, and you can certainly enjoy a bunch of Washington state brewed beer. First, Washington Beer will host the state's largest beer festival online with a virtual version at 11 a.m. this morning, offering an hour-and-a-half of brewers chatting up his or her beers, plus a virtual keg toss. Register for free here. Second, you'll need beer to really enjoy the virtual festival, and the rest of the day. That's where Peaks & Pints answers. We gathered a to-go flight of Washington double IPAs that we call Peaks and Pints Pilot Program: Washington Double IPAs and Dads, because every so often dads need a double, possibly four. Cheers!
Peaks and Pints Pilot Program: Washington Double IPAs and Dads
Matchless Hop Nectar
8.2% ABV
OK, this year's Washington Brewers Festival Matchless Brewing booth would have been different. Founding owner and head brewer Patrick Jansen left his Tumwater brewery to pursue other passions. No sleeveless hug or 360 scientific facts in 360 seconds this year. But, did you know Nick Crandall is Matchless' head brewer now? Yes, Redhook's former head brewer who brewed the crazy one-offs at the brewery's Brewlab on Capitol Hill leads the Matchless brewhouse. Crandall has all the sleeves, and did a great job following Jansen's Hop Nectar double IPA recipe of melons, pineapple, and navel oranges exposed by flaked wheat and light pilsner malt. Crandall has his own set of scientific facts, just not delayed at 360 mph.
Structures City of Solace
8.5% ABV, 40 IBU
Sure, you could win a pretzel necklace playing cornhole at the smart phone vendor booth, but Peaks & Pints would rather toss questions at cool cats James Alexander, Structures Brewing's owner and head brewer, and his sales executive, Jonny Wilkerson. Structures received the 3-Way IPA collaboration phone call this year from Fort George Brewery for a reason — they make stellar beer, including City of Solace double IPA. The Bellingham brewery took their favorite grain bill and added Galaxy, Mosaic, El Dorado, and a touch of Amarillo for flavors of grains, sweet malts, citrus, and melon juice, plus some bitter hops.
Seapine Rainbow Suspenders
8.7% ABV, 80 IBU
Seapine Brewing owner/brewmaster Drew Colpitts studied brewing sciences at University of California Davis and spent time working for Gordon Biersch Brewery Restaurant, among other breweries, before opening Seapine Brewing in 2012. The south Seattle brewery brewed Rainbow Suspenders with tons of Mosaic hops, which means notes of tangerine, mango, blueberry, and subtle bitterness.
Bale Breaker Bottomcutter IIPA
8.2% ABV, 100 IBU
Hops have long defined life at B.T. Loftus Ranches in the Yakima Valley. Back in 1932, Kevin Smith and Meghann Quinn's great-grandparents founded the family hop farm that's now run by their older brother, Patrick. Meghann and her husband, Kevin Quinn, and younger brother were keen homebrewers. Wouldn't it be natural to start a brewery on the farm? The trio took down three acres of the farm's Field 41 and built Bale Breaker Brewing Company, which is surrounded by fields of hops. Their Bottomcutter is a supremely drinkable double IPA with pine, honey, orange and grapefruit swirling around a bunch of caramel. Bonus: solid bitterness.
---