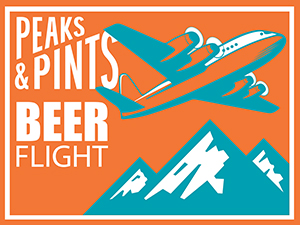 In case you missed it (or you're just awakening from a beer-induced coma and need a reminder) this weekend's annual Washington Brewers Festival is postponed. COVID closed the gates at the festival's venue, Marymoor Park in Redmond, forcing Washington Beer to take the state's largest beer festival online with a virtual version at 11 a.m. Sunday, June 21. Register for free here. As an alternative, Peaks and Pints offers a Washington Brewers Festival to-go flight featuring, obviously, Washington beers. Since it's raining, and we have been to several wet Washington Brewers Festivals, we offer what we would drink if standing in the rain at Marymoor: drink stouts. Enjoy Peaks and Pints Pilot Program: Stouts In the Rain.
Peaks and Pints Pilot Program: Stouts In the Rain
Old Stove Hell Hawk Stout
7.2% ABV, 36 IBU
We won't lie to you. For the first half hour of rain at the Washington Brewers Festival, we would be miserable. We like to enjoy our beer slowly, jotting the occasional tasting review on our phone while we ponder the drink's mysteries. Rain makes that impossible for a few reasons: it's not smart to use a smart phone in the rain; and it's hard to judge how a beer tastes when, if left uncovered, the glass fills up with rain water. It's certain we would huddle around Old Stove at the festival, and by Old Stove we mean the brewery from Pike Place Market. Their rich American stout brewed with Theo Chocolate's cacao nibs, vanilla beans, and a good heaping of toasted coconut would warm us up, and no doubt elicit a smile.
Silver City Kwik Stout: Mocha Milk Stout
8% ABV, 40 IBU
Yesterday's Peaks & Pints' Washington Brewers Festival to-go flight featured Silver City's Magnificent Bastard Scotch Ale. It's gold medal at the Washington Beer Awards earned its placement on our flight, but as we mentioned Silver City's Sales Executive Jordan Marsh also does magic tricks. We would have headed back today ask him to make the rain disappear while drinking the Bremerton's brewery's Kwik Stout. The milk stout offers a hearty dose of cocoa, freshly roasted coffee and a hint of vanilla. It goes down like a glass of milk that had been used for dipping Oreos, sweet and smooth — although we would let it warm a bit for more flavor
Two Beers Overhang
12.9% ABV, 60 IBU
An overhang means two things to Peaks and Pints: one, it's a section of rock in which the top part sticks out over the bottom part — basically, the rock is beyond 90 degrees Generally speaking, when climbing an overhang, most of your weight is supported from your arms; two, it's Two Beers Brewing's imperial porter aged in bourbon barrels for six months with cocoa, cinnamon and a touch of cloves. The overhang during climbing tastes like halite. Two Beers' Overhang tastes thick and smooth, with lots of whiskey upfront, followed by some warming and a vanilla finish. Would it be on tap at the Washington Brewers Festival? We're going to hang on to hope.
Pike XXXXX Stout
7% ABV, 65 IBU
We typically organize our flights from lowest to highest bitterness as to not blow palettes halfway. Pike Brewing's XXXXX Stout would have been the first beer we would have drank at the Washington Brewers Festival this year. Its introductory status is not because it's one of our favorite stouts of all time — it is — but rather the woman who was responsible for it past away a couple days ago. Rose Ann Finkel co-founded Pike Brewing with her husband, Charles, in 1989. The matriarch of the Seattle craft beer scene recently lost her battle with cancer, shocking and saddening the craft beer world. More tears than rain would fill our taster glass of XXXXX Stout. … Pike's XXXXX Extra Stout arrives one X short of the boozy Russian Imperial Stout but its flavor is still five-times supersized over dry stouts such as Guinness. Wafts of dark chocolate and coffee tantalize the nose; though, in the flavor, rich dark burnt malt flavor dominates the palate, molasses sweetness in the middle, with dark coffee and espresso that lend bitterness throughout the taste. Extra delicious, you might say.
---