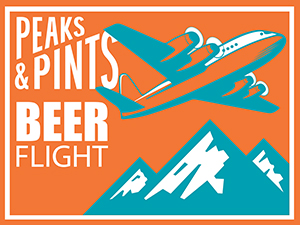 First the pandemic pushed the Great American Beer Festival to an immersive online experience October 16-17. Then the COVID cost us the Washington Cask Beer Festival. Finally, 'rona claimed the Bremerton Summer Brewfest. … "What's a social drinker to do?!" the people cried in anguish. Dry your tears. Washington Brewers Festival virtual beer fest is here. Now grab a glass, build a snacklace, and head for… your couch. The 15th Annual Washington Brewers Festival, which was scheduled for June 19-21, at King County's Marymoor Park, has been postponed. This Sunday, 11 a.m., Washington Beer will host a virtual version with local breweries, live music, virtual keg toss and more. Register for free here. In the meantime, Peaks and Pints offers a Washington Brewers Festival to-go flight for the next three days. We kick the flight off with Peaks and Pints Pilot Program: Washington Brewers Festival Winners On the Fly. We always attend the festival's Friday night session as it tends to be more of a party atmosphere. Let's pretend we're there tonight. …
Peaks and Pints Pilot Program: Washington Brewers Festival Winners On the Fly
Kulshan Helles German-Style Lager
5% ABV, 15 IBU
Let's start light, in both beer and atmosphere. Kulshan Brewing sales executive Katie Johnson is pouring their award-winning Helles. She's awesome and so is this German style helles lager. It grabbed a silver at the 2019 Washington Beer Awards, which are announced Saturday morning during the Washington Brewers Festival. Kulshan Helles has a light bready sweetness from the pilsner malt that gives it a solid backbone while the Hallertau Mittelfrüh lend herbal aroma, slight floral and herbal flavor, and spicy dryness. Overall, it's nicely balanced, flavorful, clean and crisp.
Top Rung My Dog Scout Stout
6% ABV, 30 IBU
There's Top Rung Head Brewer Jason Stoltz pouring his dog into a taster glass. My Dog Scout Stout is named after Stoltz' black lab, Scout. This puppy grabbed gold in the American Stout category of the 2015, 2017 and 2019 Washington Beer Awards. "I think the My Dog Scout Stout took a gold medal home because of some of the choices in malt selection giving it a few different layers of flavor ending on the base malt used," says Stoltz. "Also, our water allows us to brew darker beers very well." Chocolate and coffee jump out of the glass. Deceptively smooth and black as the night, My Dog Scout Stout is an easy sipper due to the eight different malts used in the brewing process.
Silver City Magnificent Bastard Scotch Ale
9.3% ABV, 30 IBU
Silver City Sales Executive Jordan Marsh is performing magic tricks as he pours his brewery's Magnificent Bastard Scotch Ale, which grabbed gold last year at the Washington Beer Awards. Formerly known as Fat Scotch, Magnificent Bastard Scotch Ale hits the nose with a bit of peaty smokiness. Expect a subdued first sip with a hint of sweet malt followed by long, smoky, sweet aftertaste and finish from this beer. Hey! Wait a minute! You made my beer disappear Jordan!
Old Schoolhouse Eddy Hopper
7.5% ABV
Casey and Laura Ruud purchased the floundering Winthrop brewery in 2008, changed the name to Old Schoolhouse Brewery, cleaned it up, and quickly turned it into an award-winning gem of a brewpub. Nate and Jacob Young, and their buddy Troy Anderson — longtime fans of the brewery — bought it with the intent of keeping it awesome. Co-owner and General Manager Jacob is behind his booth pouring Eddy Hopper hazy IPA, which grabbed gold at the 2019 Washington Beer Awards. Brewed with Mosaic, Citra, Simcoe, and NZ Southern Cross, this Old Schoolhouse Brewery IPA takes the nose to the tropics — specifically pineapple land. Orange dominates the flavor with mild bitterness and a semi-dry finish.
---