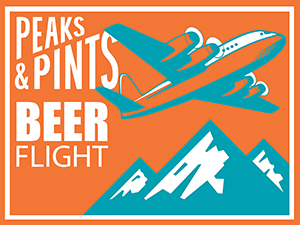 This year's Peaks & Pints Tournament of Beer: Northwest Lagers centers around American and international light and pale lagers. Sunday, March 13, marks the last day to nominate your favorite regular lager brewed in Washington and Oregon into the Tournament, which begins April 8. Apparently, there's a bit of disappointment Vienna lagers weren't included in the Tournament. We apologize; most likely, someday, they'll be a Tournament of Beer: Northwest Vienna Lagers. In the meantime, stop by Peaks & Pints today and grab our to-go flight, Peaks and Pints Pilot Program: Vienna Lagers On the Fly.
Introduced in 1841, Vienna lager was developed by Anton Dreher, owner of the Schwechat Brewery near Vienna. During the height of the Austro-Hungarian Empire (1867-1918), Vienna lager was king. When the Empire collapsed, so too did the brew — vanishing even from its home city. If not for Jim Koch of the Boston Beer Company, the style may have evaporated with it. Koch was tired of working as a consultant and decided to go into beer. Brewing was in his heritage, and using a family recipe from 1860, Koch re-introduced Vienna lager to a post-Prohibition America with Samuel Adams Boston Lager in 1984. The beer is characterized by malty aroma and slight malt sweetness. The malt aroma and flavor have a notable degree of toasted and/or slightly roasted malt character. It's easy to drink, not too heavy and not too light, has a touch of sweetness for people who don't like bitter beers, but enough bitterness for those needing a little backbone.
Peaks and Pints Pilot Program: Vienna Lagers On the Fly
Matchless Brave & Adventurous
5% ABV
Big Nose Kate Western Whiskey inspired Matchless Brewing to brew a Vienna-style lager that pairs perfectly with their whiskey, featuring some of the same grains they use. With the whiskey grains Matchless added Weyermann's Barke Pilsner, Vienna and Rye malts paired with Hallertau Tradition and Willamette hops. Look for notes of fresh baked bread, subtle rye spice and a mildly citrusy hop finish.
Block 15 Sol Fresco
5.25% ABV
We're including Block 15 Brewing's Sol Fresco on this list as Untappd says it's a Vienna. It's receiving a sombrero full of nomination for its inclusion in the Tournament of Beer: Northwest Lagers, which we're allowing as Block 15 calls it a "Mexican-style pale lager" on their can label. According to Block 15 Sol Fresco, "balances gentle corn sweetness, light hop bitterness, and aroma with a crisp, clean finish."
Single Hill Flight Cancelled
6.1% ABV, 25 IBU
Named after the city in which it originated, a traditional Vienna Lager and German Märzen have much in common. Although Austrian in origin and rare these days, some classic examples come from Mexico, such as Dos Equis Amber, the result of late 19th century brewers immigrating from Austria. Peaks & Pints suggests you fly to Vienna or Mexico for research. If you flight is cancelled, then head to Peaks & Pints and grab Single Hill Brewing's Flight Cancelled Vienna lager. This copper lager tastes of well-baked biscuits with a hint of toffee: perfect for the mellow moments in between changing plans.
LINK: Peaks & Pints cooler inventory
---