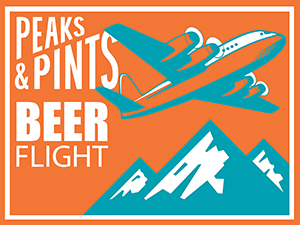 You won't find any piñatas or enormous velvet sombreros hanging from the ceiling at Peaks & Pints, but you will find beers brewed to taste like Mexican hot chocolate — albeit cold. Hot chocolate originated in Mesoamerica before being co-opted by the Spaniards (and sugar high kids the world over). Mexican chocolate is much different from the rich, cocoa butter compound most folks have floating around their kitchen. The secret ingredients? Granulated sugar and cinnamon. The granulated sugar gives the chocolate a gritty texture that's muy differente compared to the smoother, European-style chocolate. Cinnamon, or canela, is the other secret ingredient. Canela is a softer, more fragrant Ceylon cinnamon than the hard sticks typically floating around your mulled cider. Sweetness and cinnamon are two traits commonly found in Mexican chocolate beers, although many add peppers for heat. Stop by Peaks & Pints today and grab our to-go flight, Peaks and Pints Pilot Program: Mexican Chocolate Beer On The Fly.
Peaks and Pints Pilot Program: Mexican Chocolate Beer On The Fly
Fieldwork Hot Chocolate
6.6% ABV, draft
Fieldwork Brewing's Hot Chocolate is an ode to the beauty that is Mexican Hot Chocolate. Copious amounts of TCHO chocolate, cinnamon, nutmeg, cayenne pepper, and ancho chilies are added to a base beer consisting of a softly bittered foreign export stout. All these flavors and spice character are backed up by a huge chewy body, yet the low sweetness helps it retain its drinkable nature. The upfront chili heat is assertive, but quickly dissipates to the big chocolate character that had previously dominated the nose. Soon after all flavors have melded, ending with bold cinnamon notes and hints of smoke from the ancho chilies.
Belching Beaver Viva La Beaver
7.5% ABV, 28 IBU, can

Kick your peanut butter fix up a notch with Belching Beaver Brewery's Viva La Beaver Mexican Chocolate Peanut Butter Stout. Sometimes named just Mexican Chocolate Peanut Butter Stout (confusing!), and prior, Living La Beaver Loca, this award-winning beer offers flavors of creamy peanut butter, cinnamon, and cocoa nibs. Peaks and Pints also picks up notes of roasted coffee, cookie dough, fudge, brownie batter, cappuccino, toffee, and dark roasted malts upfront, as well as a little vanilla on the mid-palate. This decadent milk stout is the definition of pastry stout.
Old Schoolhouse Melipona
8.5% ABV, 40 IBU, can

Lesson: The stingless Melipona bee is the famous vanilla pollinator cultivated by the Mayans more than 3000 years ago. Old Schoolhouse Brewery honors its namesake with copious amounts of Mexican vanilla pods, Ceylon cinnamon and Blue Star Coffee Roasters cold brew for a rich and creamy imperial stout with complex notes of chocolate, licorice, vanilla, and a finish that hints of spicy cinnamon. Drink this stout while arguing that Mel Gibson's barbaric Mayan civilization film Apocalypto isn't required for history class.
Stone Xocoveza Tres Leches
8.5% ABV, 65 IBU, can

Stone Brewing's Xocoveza Tres Leches combines the inspiration of Oaxacan hot chocolate and tres leches treats in an imperial stout that's smooth, creamy, and intensely indulgent. Made from all that's good about the holidays, Stone Xocoveza is brewed with chocolate, coffee, Pasilla peppers, vanilla, cinnamon, and nutmeg. The aroma is intense — cinnamon and spice up front with lingering coffee, caramel, and sweet vanilla. Sweet spices are balanced with rich and creamy chocolate. Mild roast coffee flavor shines through and vanilla enhances the intense combination. Pasilla peppers impart a light hint of heat in the finale.
Great Divide Mexican Chocolate Yeti
9.5% ABV, can

In January 2018, Great Divide Brewing released their first Local Knowledge hyper-limited, hyper-local pilot series: Mexican Chocolate Yeti, which was batch number 10, brewed with Cholaca liquid cacao. Another variation on the classic Yeti Imperial Stout, Great Divide added a variety of spices, vanilla, and coffee to invoke the flavors of a Mexican hot chocolate (traditionally called champurrado). Great Divide Mexican Chocolate Yeti has been released into the wild, inckluding Peaks & Pints.
LINK: Peaks & Pints cooler inventory
---