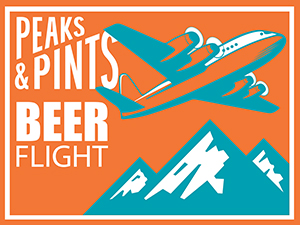 If variety is the spice of life, then today's Peaks & Pints to-go beer flight isn't going to be very spicy. It IS damn tasty, though. Chris Baum, John Cope, Chad Roberts, David Paulson, and Karl Vanevenhoven opened Varietal Beer Co. in April 2018 in the Port of Sunnyside between Yakima and the Tri-Cities in Eastern Washington. The ownership all had a variety of dreams and life goals, but their Venn diagram centered on owning a brewery in the Yakima Valley. After earning the Enterprise Challenge held annually by the Yakima County Development Association and the Kittitas County Chamber of Commerce, Varietal became a thing. They new they couldn't launch with their dream wild ales, so they add a variety of other beer styles to get rolling. The clean, hoppy beers turned heads, including ours. Stop by our giant craft beer lodge and grab Peaks and Pints Pilot Program: Varietal Beer On The Fly.
Peaks and Pints Pilot Program: Varietal Beer On The Fly
Varietal Psion
6.9% ABV
Either someone at Varietal had an affinity for the English mobile handheld computers company Psion, plays Dungeons & Dragons, or has telepathic abilities. How else can you explain the name behind their hazy IPA Psion? Peaks & Pints wants more Psion and its hefty dry-hop of New Zealand-grown Nectaron hops for a bright punch of stone fruit aroma and flavor. Someone at Varietal possibly knows this and could be logging into their Psion.
Varietal Trail of Stars IPA
7% ABV
This hazy IPA is brewed with Sultana, Lotus, and Comet hops as a Christmas IPA for Hopsteiner, the Yakima Valley hop grower, breeder, trader, and processer. Sultana and Lotus are Hopsteiner's proprietary hops, with Lotus being the main component in Skiffy Sunggler Pale Ale. Expect tropical flavors and classic West Coast flavors.
Varietal Cone of Cold Wet Hop IPA
7 % ABV
Brewed in mid-November with frozen, wet hops that never saw a kiln, this IPA is an "out-of-season comfort beer for hop lovers," according to Varietal Beer Cone of Cold Wet Hop IPA hype. This hazy IPA is brewed with 150 pounds each of wet Simcoe and Citra hops at their peak of freshness for more Simcoe than Mosaic (hello Simcoe nose). Expect stone fruit and tropical flavors with a bitter finish.
Varietal WeedWolf: Gloomtrance
8.2% ABV
The latest entry in Varietal's WeedWolf series of experimental double IPAs, Gloomtrance is brewed with Amarillo, Cascade, and Chinook in the whirlpool, then dry-hopped heavily with Huell Melon, Mosaic, Chinook, and Amarillo hops. Expect big, ripe pineapple with notes of light melon for a soft, tropical cocktail.
---