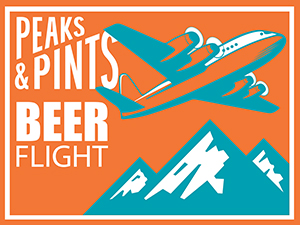 Consider the vanilla bean. The Aztecs did. In addition to inventing long words ending in "atl" and awesome mythology, they had the patience to figure out how to cultivate vanilla — a particularly difficult flavor to come by. The pods are the fruit of an orchid plant (Vanilla planifolia), and they have to be cured and fermented over the course of about six months. If that weren't involved enough, the high-maintenance orchid itself has to be pollinated by hand. Mexico continues to be a major producer, but bourbon vanilla pods from Madagascar are considered to be the Chanel No. 5 of vanilla, valued for its rich depth of flavor. For many years now, vanilla has been the adjunct that takes a beer's status from gold to platinum. Peaks & Pints presents a platinum to-go beer flight, Peaks and Pints Pilot Program: Vanilla Beer On The Fly. Which one of these recently released vanilla-infused beers do you enjoy the best?
Peaks and Pints Pilot Program: Vanilla Beer On The Fly
Mother Earth Nitro Cali Creamin' Vanilla Cream Ale
5% ABV, 20 IBU
In 2010, Daniel Love opened Mother Earth Brewing Co. in Vista, California, just north of San Diego. After an expansion in Vista, he then set his sights on a larger expansion that saw the opening of its second location, one a fair distance away from San Diego County to Nampa, Idaho, a suburb of Boise. Whether you're road tripping to Vista or Boise, bring along Cali Creamin' Creamsicle. For the past few years, Mother Earth's best-selling beer in San Diego has been its Cali Creamin' Madagascar vanilla cream ale. The vanilla beans add a cream soda-like flavor, with a slightly dry finish. This nitro version of their flagship cream ale is even creamier and smoother than the original.
Pelican The Brewed Abides
7% ABV, 25 IBU
A few days ago, Peaks and Pints drank this milk stout from the teat at Pelican Brewing in Pacific City, Oregon. The Brewed Abides takes its inspiration from the classic White Russian cocktail, as well as The Dude imbibing it in the movie that made it famous, The Big Lebowski. This milk stout is brewed with Costa Rican coffee beans, cacao nibs, vanilla beans, pure coastal water, and pure ale yeast abiding in harmony to create intense, rich flavors with hints of coffee, caramel maltiness and a velvety mouthfeel. 
Matchless Cold Mocha
8.5% ABV
There is snow in the mountains. There is a nip in the air. It's sweater weather. That means it's time to curl up by a roaring fire with a nice mug of Matchless Brewing Cold Mocha, an imperial brown ale full of rich chocolate and creamy vanilla flavors with a shot of Olympia Coffee Roasters' Big Truck Coffee Beans.
Dogfish Head Costumes & Karaoke
8% ABV, 30 IBU
"With Costumes & Karaoke, I wanted to bring to life — in beer form — the intricate flavors and esters found in one of my favorite drinks, a golden milk latte," said Dogfish Head founder Sam Calagione in a statement. "Golden milk, or Haldi Ka Doodh, is a turmeric-infused milk with origins dating back centuries." Costumes & Karaoke is a golden tea-inspired imperial oat cream ale built upon a sophisticated blend of spices, including vanilla beans, ginger, cinnamon and turmeric. The resulting vibrant gold liquid is filled with aromas of ginger, cardamom, anise and vanilla, and sweet and spicy flavors of ginger, citrus and cardamom.
Modern Times Black House Vanilla Latte Edition
5.8% ABV, 40 IBU
Modern Times Beer is one of the only breweries in the world to roast our own coffee, which allows them to be extremely persnickety about which beans they buy and how they roast them for their year-round oatmeal coffee stout, Black House, which is brewed with black and pale chocolate malts, Ethiopian Hambela and Sumatran coffee. Black House Vanilla Latte edition adds a generous helping of vanilla and upped the ante even further by loading it with even more of their house-roasted coffee.
---