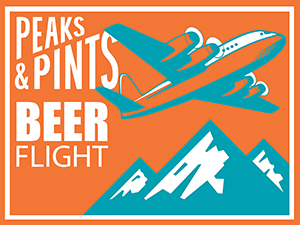 Trappists monks make other sought-after, high-quality goods besides insanely delicious beer. Many make cheese; some make wine and distill liquor; but 11 Trappist breweries have the "Authentic Trappist Product" seal of approval to brew using beautiful yeasts, all with their own distinctive smell and taste. The seven OG Trappist breweries have deep roots in Europe — Chimay, Rochefort, Orval, Achel, Westmalle, and Westvleteren in Belgium, and La Trappe in the Netherlands, although a lack of monks forced Achel to turn in their beer robes in January 2021. Stift Engelszell wears the ATP patch in Austria. Tre Fontane Abbey is legit in Italy. Other ATP approved breweries include Brouwerij Abdij Maria Toevluchy (Zundert) in the Netherlands, Mount St. Bernard Abbey (Tynt Meadow) in England, and St. Joeseph Abbey in Spencer, Massachusetts. France's Mont des Cats' beer is not brewed at their monastery but at Chimay, and Cardeña from the Abbey of San Pedro de Cardeña in Spain, is currently produced off-site. Peaks & Pints continues our weekly Merchant du Vin Trappist Tuesday themed to-go beer flights with today's version, Peaks and Pints Pilot Program: Trappist Tuesday Quads. The Belgian quadrupel is the strongest in a series of Trappist styles, beginning with the single (better known as an abbey), the dubbel (double) and the tripel (triple). Quads are the strongest of the Belgian beers, often over 10% ABV. The monks seem to have stopped at four. They probably passed out.
Peaks and Pints Pilot Program: Trappist Tuesday Quads
La Trappe/Brewdog Practise What You Preach
10% ABV
La Trappe Abbey is a Trappist monastery in Soligny-la-Trappe, France — a brand of Trappist beers brewed by De Koningshoeven Brewery. La Trappe/Brewdog Practise What You Preach is a beer representing a collaboration between tradition and innovation. A place where monks meet punks. Brewed at La Trappe's monastery in January 2021, Practise What You Preach Belgian quadruple has Scottish heather honey and American hops. This quad exploration of past and present was developed over an early morning tasting at BrewDog's HQ in Ellon. The result is a ruby-hued liquid that boasts aromas of rich dried fruits and sweet honey. Hints of citrus fruits run subtly throughout, cutting through the sticky mouthfeel to balance out the sweetness.
Spencer Monks Reserve Ale
10.2% ABV
In January 2014, the 63 brothers of St. Joseph's Abbey — about an hour's drive west of Boston — received the thumbs up from the International Trappist Association, selling the first Trappist beer brewed outside Europe. Spencer Brewery Reserve Ale is a full-bodied classic Trappist quadrupel with a nose of dark malts, caramel, bread, raisins, figs, molasses, plums, cinnamon, and herbal and earthy hops. The taste is sweet with strong notes of dried fruits and spices, while the background has a strong malty profile with notes of roasted malts, caramel, and dark bread.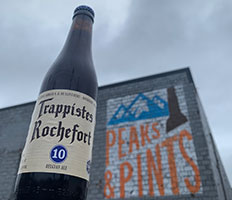 Abbaye Notre-Dame de Saint-Remy Trappistes Rochefort 10
11.3% ABV
The Abbaye Notre-Dame de Saint-Remy monks McGyvered their Rochefort Trappistes quadrupel. To elevate the alcohol by volume they steeped the candi-sugared wort in metal baskets. Furthermore, two malts were used in the brewing process: pils and caramel malt, as well as wheat starch, two varieties of hops and Rochefort's own yeast. The result is a robust dose of alcohol, much like port. Rochefort 10 hits the nose with roast wheat, figs, cherries, nuts, and dark chocolate. On the tongue, expect caramel, chocolate, ripe fruits, and herbal touches of hops.
LINK: Peaks & Pints cooler inventory
---