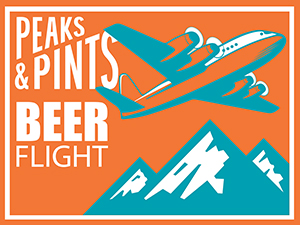 Bryan Shull's grandfather and father worked at and retired from Great Western Malting Company located at the Port of Vancouver USA, which makes Trap Door Brewing a fourth-generation Vancouver beer family-owned business. Shull, who left a 25-year career in renewable energy engineering to start a brewery with his two sons, Zakary and Zane Singleton, opened the 15-barrel facility in the Uptown neighborhood of Vancouver in October 2015 because he loves beer and the community of people that make up the brewing industry. Dave Forster, a silent owner, and Michael Parsons, taproom general manager, joined the venture. In October 2020, Kyle Larsen replaced Zane as head brewer. No doubt Larsen can continue the Trap Door medal-winning ways as he has a long pedigree, beginning in 2007 brewing at Full Sail, followed by head brewer status at Double Mountain, then head brewer at Siren Brewing in Reading, England. Peaks & Pints received new shipment of Trap Door beer, so naturally it's our to-go flight of the day, Peaks and Pints Pilot Program: Trap Door On the Fly.
Peaks and Pints Pilot Program: Trap Door On the Fly
Trap Door Untitled #5
6.9% ABV
Trap Door Head Brewer Kyle Larsen made a blended sour ale for his Trap Door Cellars Collection featuring white wine barrel aged sour brewed with Oregon-grown estate barley from Mecca Grade then refermented on Meeker raspberries grown in the Willamette Valley. Conditioned on Tahitian vanilla beans. Expect flavors of raspberry vanilla sherbet and pie cherries with noticeable oak notes.
Trap Door Hella
5% ABV
The Münchner (Munich) helles is a light golden to straw-colored German lager known for being medium-bodied with an emphasis on malt character and low hoppy bitterness. The maltiness is soft and smooth, with a bready or toasted quality. As a Helles ("light" in German), it should be very clear and bright. Larsen put his own spin on the style utilizing Weyermann's Barke line of malt, a simple and refined grist, combined with Hallertau Mittelfruh hops, and 5-plus weeks of lagering, creating a lovely drinking experience. It begins with floral hop notes then moves toward a biscuit like finish and clearing bitterness.
Trap Door Lupuluminati Enlightened IPA
7.2% ABV
A Trap Door take on a modern West Coast IPA, bridging the gap between East and West coast IPAs. Rolled oats and flaked rye build body and help carry hop flavor. Bitterness is prevalent and helps to accentuate drinkability. Layered with hops Lupuluminati Enlightened IPA offers classic Mandarin orange, dank, and grapefruit as well as a more modern hit of passionfruit. Strata from Indie Hops joins the fun.
Trap Door 2 and Six Forty
6.6% ABV
The 2 and Six Forty is a one off, big bodied, New England-style IPA loaded with Azzaca, Galaxy, and Motueka hops. Expect deep tropical, overripe notes, accentuated by bright citrus zest and fresh hop flavor. To back up all the hoppy goodness flaked wheat, rolled oats and a heavy chloride water profile build body and roundness.
Trap Door TANG
6.8% ABV
When one is orbiting Earth at 17,000 miles per hour, one is bound to get thirsty. That's presumably what happened to astronaut John Glenn while taking his jaunt around the globe Feb. 20, 1962. Unfortunately, the poor taste of the onboard life support system water (due to a nontoxic chemical reaction) made that option not particularly attractive. Luckily, Glenn had Tang. Too bad he didn't have Trap Door's TANG when he landed. It's a classic Trap Door New England-style IPA with a soft, fluffy body and minimal bitterness. Featuring El Dorado from Roy Farms and Mosaic from Yakima Chief, this batch of TANG is radiating orange PEZ with a supporting cast of all things grapefruit.
Trap Door IPA
6.4% ABV
India Pale Ales are medium-bodied, golden- to copper-colored beers that emphasize hops. Depending on the intent of the brewer and the variety of hops used, these beers can have herbal, piney, citrus or other tropical fruit accents, or some combination thereof. The West Coast IPA tends to focus on grapefruit/citrus and pine/resin bitterness that falls, which describes Trap Door's IPA with the trifecta of hops — Mosaic, Simcoe and Citra — Clear, moderate bitterness, full grapefruit, and pine flavor.
---