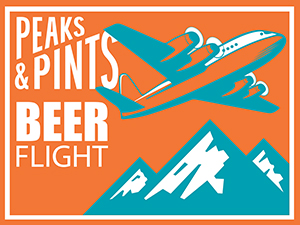 Seattle native Josh Pfriem began homebrewing while at Western Washington University in his early 20s then moved to Utah for the ski bum experience. He worked at Utah Brewers Cooperative for a few years before moving back to his old college town of Bellingham to brew at Chuckanut Brewery, where he helped win the Great American Beer Festival Small Brewpub of the Year in 2009. He moved to Hood River, Oregon, to work at Full Sail but left in December 2011 to open pFriem Family Brewers — across the highway from Full Sail along the banks of the Columbia River — in August 2012. The brewery prides itself on its strong family focus and community involvement, as well as its ingredients — while many craft brewery websites list the notable spices and hops used in their brews, none we've encountered boast the encyclopedic cataloging of every ingredient the way pFriem does. Today, Peaks & Pints presents a to-go flight of pFriem craft beer for Thanksgiving — a flight we call Peaks and Pints Pilot Program: ThankspFrieming On The Fly.
Peaks and Pints Pilot Program: ThankspFrieming On The Fly
pFriem Belgian Christmas
8% ABV, 30 IBU
pFriem Belgian Christmas Ale changes from moment to moment. This big dubbel-based holiday ale is brewed with German Perle hops, candi sugar, coriander and Belgian ale yeast that changes flavor with every sip. Just as you think it's a toffee delight it morphs into chocolate-covered orange. Then raisin. And cinnamon pastry. Oh, and dried cherry. And …
pFriem Bourbon Barrel Aged Barleywine
11% ABV, 33 IBU
Brewed with Demerara sugar and aged in bourbon barrels, pFriem Bourbon Barrel Aged Barleywine offers caramel and baking spice aromas. A hearty sip brings out fig and dried plum, expectant of beers showing the benefit of age. Brown sugar and dried fruit linger on the pallet, highlighted by a sophisticated resonance of American oak.
pFriem Coconut Stout
8.6% ABV, 40 IBU
Brewed with toasted coconut flakes and lactose, pFriem Coconut Stout pours a charred black walnut with foam like golden sand. Cozy aromas of dark chocolate, toasted coconut, toffee, macaroons, and hazelnut open the door. Comforting flavors of praline, brownie batter, mounds bar, and mocha. It's creamy and deep with a toasty, smooth finish.
pFriem Rum Barrel Aged Porter
9.5% ABV, 45 IBU
pFriem ages their Imperial Porter for a year in barrels kissed by the Caribbean rum barrels, giving pFriem's Rum Barrel Aged Porter black walnut with ruby red hues sitting beneath the dense khaki foam. Seductive aromas of Belgian chocolates, cinnamon, nutmeg, red velvet cake, and molasses hit the nose. Expect luscious flavors of vanilla bean, chocolate truffles, rum cake, ripe cherries, and Mexican hot cocoa with a soft, round, and decadent finish.
pFriem Rye Whiskey Barrel Aged Imperial Brown Ale
12.3% ABV, 45 IBU
Aged in rye whiskey barrels for a year, pFriem's Rye Whiskey Barrel Aged Imperial Brown
pours a black walnut hue, bursting with rich notes of brandied cherry, toffee, and a kiss of char. Rich and bold flavors of creamy vanilla bean, rye, dried fruit, and toffee coat the tongue. It finishes with a touch of spice, wood smoke, and round heat.
pFriem Winter Ale
7.5% ABV, 65 IBU
Brewed with a malt bill of Rahr Pale, Simpsons Munich, Simpsons Crystal Dark, and Carafa III German roasted malt, plus Chinook, Mosaic, Citra, Nelson, and Eldorado hops, pFriem Winter Ale sports a fruity aroma with a touch of spice; waftings of fresh baked fruitcake with a touch of spruce tree. Rich bold flavors of hops and malt meld with a touch of orange zest and huckleberries. The finish leaves the mouth covered with a trace of caramel, cut by an assertive hoppiness.
LINK: Peaks & Pints cooler inventory
---