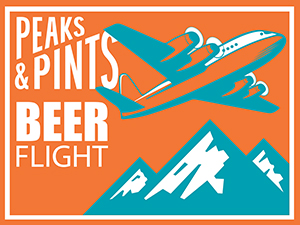 Talus, previously known as HBC 692, is a variety from the Hop Breeding Company, which is a joint venture between John I. Haas and Yakima Chief Ranches. A result of a hybrid pollination of the Sabro and open pollination, Talus hops deliver a one-of-a-kind aroma experience. Talus, a word that represents the sloped features of rocky terrain, pays homage to the rich mountainous landscape of the Pacific Northwest. Talus is an aroma hop for whirlpool and dry hopping additions. It delivers a high intensity hop aroma — citrus, floral, wood and fruit — well suited for IPAs and other hop-forward beers. Flavor wise, Talus hops exhibit grapefruit, floral, stone fruit, potpourri, woody, cream, pine, and resinous notes. Today, Peaks & Pints presents a to-go flight of beer brewed with Talus — a flight we call Peaks and Pints Pilot Program: Talus Hops On the Fly.
Peaks and Pints Pilot Program: Talus Hops On the Fly
Urban Family Always Make Waves
5.5% ABV
Urban Family Brewing played host to women brewers from Ballard breweries to make a Pink Boots Society hazy pale ale benefitting Pink Boots Seattle. Bad Jimmy, Fair Isle, Hales, Lagunitas, Lucky Envelope, Obec, Maritime Pacific, Reuben's Brews, Stoup, and Wheelie Pop added Yakima Chief's Pink Boots Hop Blend of HBC-630, Idaho Gem, Loral, Talus, and Triumph to a base of pale 2-row and pilsner malt, flaked and malted oats, and flaked and malted wheat. Fermented with Berkeley Yeast's "Tropics" thiolized yeast strain and dry hopped with 2.5 pounds per barrel of the Pink Boots hop blend on day one, the after-fermentation results yielded big grapefruit, underlying papaya, and slight pine notes rounded out by a gentle bitterness.
Urban Family Look Out! Fire Ants!
6.7% ABV
"Inspired by our fears of horrifically ruined picnics, we present Look Out! Fire Ants! IPA," states Urban Family hype. Brewed with 2-row, flaked and golden naked oats, flaked and malted white wheat, this hazy IPA is hopped in the whirlpool with Nelson Sauvin, and then fermented with Cosmic Punch from Omega Yeast. It's then dry hopped on day one of fermentation with Nelson Sauvin, Strata, and Talus for pink grapefruit, and white wine with piney undertones.
Dru Bru Alpha Female 2022
7.5% ABV, 65 IBU
This Dru Bru double IPA is crafted in support of the Pink Boots Society and the women who brew, sell, pour, and drink craft beer. Alpha Female double IPA is brewed exclusively with the Pink Boots Blend of Idaho Gem, Talus, Triumph, Loral, and experimental hop HBC 630. With a simple malt backbone, this beer is brewed to allow the hop aromas of berries, citrus, and sweet aromatics to shine.
Holy Mountain Beyond the Edge of The Board
6.5% ABV
Holy Mountain Beyond the Edge of The Board hazy IPA is brewed with a combination of Pilsner and 2-row, with additions of malted oats and flaked barley, then heavily hopped with Talus and Strata in both the kettle and dry hop for notes of citrus rind, tropical fruit, berry, and passionfruit jump out in the aroma and flavor.
Fremont Mr. Sun II
8.2% ABV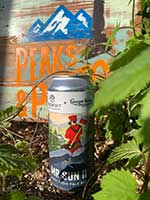 Many years ago, on a continent far far away, Fremont Brewing and Great Notion Brewing united in a noble pursuit to bring the light of Pacific Northwest beer to the dark corners of the world. Thereafter joining forces, they returned home and resolved to brew a beer in celebration of newfound friends and beer explorers. Three years later they did it again brewing Mr. Sun II with Talus, Cashmere, Idaho 7, El Dorado, and Sorachi Ace hops, as well as 2-Row Pale, Lyon Pilsner, white wheat, malted oats, and rolled oats for mango and other tropicals with orange and melon followed by stone fruit and sweet aromatics with floral and woody aromas, followed by light sweetness and mild bitterness.
LINK: Peaks & Pints cooler inventory
---