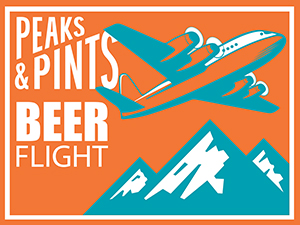 Historically speaking, Tacoma's summer can be kind of a dick. It can be pleasantly mild, then, for those very special few weeks, borderline unbearable. Recently, walking the streets of Tacoma feels kind of like wrapping your feverish body in a soaking-wet thermal blanket and going for a jog. It gets hot, is what we're saying, and you might want to have yourself a beer to cool off. In fact, you deserve it. Hell, have six stouts. Stouts? First, will be cloudy and 69 today. Second, stouts are better suited than many light-colored beers for pairing with summery foods like charred vegetables and barbecued meats. Think about it: Their earthy flavors and rich, toasted aromas mimic the ones already billowing out from your backyard grill. And stouts actually benefit from the weather — as the beers warm, their complex, smoky undertones begin to unfurl. Peaks & Pints presents six of our favorite full-bodied but easy-drinking stouts for your cookout, picnic or barbecue today — a to-go flight we call Peaks and Pints Pilot Program: Summer Stouts On the Fly.
Peaks and Pints Pilot Program: Summer Stouts On the Fly
Triceratops Revival Coffee Milk Stout
4.4% ABV
In 2014, Joint Base Lewis-McChord firefighter Rob Horn took his homebrewer skills pro and open the Tumwater brewery, Triceratops Brewing, named after his three kids (three Horns). When concert promoter, Capitol Theater executive director and Olympia Heritage Commissioner Audrey Henley and her coppersmith, mechanic, rock star husband Jimmi Davies said yes to their downtown Olympia working motorcycle garage coffee bar Revival Motors & Coffee supplying the complex, full-bodied, cold brew Arabica coffee from Caffee Umbria for Horn's Revival Coffee Milk Stout, a balanced beer with creamy sweetness, plenty of medium dark roast flavor, and a sessionable ABV.
Rogue Chocolate Stout Nitro
5.8% ABV, 69 IBU
Rogue Ales' award-winning Chocolate Stout is brewed with 10 ingredients: Northwest Harrington and Klages, Crystal 135-165 and Beeston Chocolate malts, Cascade hops, rolled oats and roasted barley, natural chocolate flavor, free range coastal waters, and PacMan yeast. The mellow flavor of oats, chocolate malts, and real chocolate are balanced perfectly with the right amount of hops for a bittersweet finish. The addition of a nitro charge to this Rogue classic blends up chocolate and malt flavors into a smooth creamy chocolate experience.
Left Hand White Russian Nitro
8.9% ABV
While Left Hand Brewing Milk Stout Nitro in cans is by far their most widely-distributed nitro offering, the brewery has diligently worked to expand its canned nitro selection to include a variety of fruity and seasonal nitro releases, including White Russian Nitro. With coffee, vanilla and notes of chocolate, this imperial stout has a nose of sweet smell of cocoa, a creamy mouthfeel, and of course that Dude abides White Russian taste.
Left Hand Bittersweet Imperial Coffee Milk Stout Nitro
8.9% ABV, 54 IBU,
Left Hand Brewing's Bittersweet Imperial Coffee Milk Stout goes big with an aggressive boost from Allegro Coffee's exotic mocha java blend. The coffee's dark cherry flavors and spicy undertones weave into the rich milky sweet stout like a chocolate-covered espresso bean melting on your tongue. Bitter then sweet. Sweet then bitter. It's bittersweet. And, it's definitely creamy.
Future Primitive Machine Stout
4.8% ABV
Future Primitive Brewing opened in December 2018 in the former home of Big Al Brewing in White Center. The ownership group includes Mike Baker of Artisanal Imports, Dean Hudgins and Ian Roberts of The Pine Box, former Elysian brewer Kevin Watson and Larry Soloman. Machine Stout, brewed in collaboration with Machine House Brewing, is a dry stout made with Machine House's yeast and English malts for an easy-drinking, chocolaty beer.
Silver City Shadow Magic
9% ABV
The foreign extra stout style started back with the 19th century, being developed in the year 1801 by Guinness, who initially named the beer, the West India Porter. Guinness designed this beer specifically to be shipped to Irish expatriates that were working in the Caribbean at the time. In order to withstand the long trip from Ireland, the beer was brewed bigger with extra hops and more alcohol, which serve as natural preservatives. The beer later became known as the Foreign extra stout. Inspired by the traditional foreign extra stout style, Silver City Brewery Shadow Magic brings deep, rich, malty chocolate flavor and a velvet-smooth body from the addition of oats and roasted wheat.
LINK: Peaks and Pints cooler inventory
---