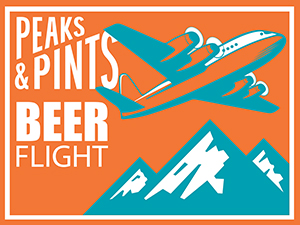 Navy SEAL Sean Haggerty brewed his first batch of Protector Brewery beer in a five-gallon Gatorade cooler while serving in Iraq. It was 2010, and after patrols he craved a beer. Haggerty had ingredients shipped in and brewed beer on the down low. While he remained in the military until 2015, Haggerty recruited a brewing team. He brought in fellow SEAL Ryan Sangster and friends Ryan Allis, a biologist, and Mark Thorsen, who brought experience in beer sales and design, respectively. The team also recruited Ben Betz — another SEAL who was also into brewing and also thinking about opening a beer company. With the goal of brewing delicious organic beer, they launched San Diego's first certified organic brewery in June 2017 in the Miramar is a neighborhood in the northern part of the city. Today, Peaks & Pints presents a to-go flight of Protector beer — a flight we call Peaks and Pints Pilot Program: Protector Brewery On the Fly.
Peaks and Pints Pilot Program: Protector Brewery On the Fly
Protector SD Hazy IPA
7% ABV, 50 IBU
Brewed with Mosaic, Chinook, Centennial, and Simcoe organic hops, as well as Organic Superior Pilsen malt, Carapils malt, rolled oats, and Organic A38 Juice yeast strain, the juicy, dry and bright Protector SD Hazy IPA offers notes of grapefruit, papaya, blueberry, lemon, earth, pine, and orange blossom with low bitterness.
Protector SD West Coast IPA
6.5% ABV, 60 IBU
Brewed with organic Citra, Simcoe, and Mosaic hops, Protector SD West Coast IPA offers a symphony of citrus, pine, and rose in its aroma. A juicy blend of passionfruit, berry, and grapefruit is finished with an essence of pine and rose blossom to complete a perfectly balanced India Pale Ale. The first sip brings a hop burn and bitterness that mellow into a delicious finish.
Protector Cheveyo Blood Haze DIPA
8% ABV, 60 IBU
Brewed with Half Face Blades knives, Protector Cheveyo Blood Haze DIPA is a robust hazy double IPA brewed with a small addition of organic fruit puree in the kettle for an extra juicy bite and organic dragon fruit powder to create a nice red pour. It is infused with Mosaic, Citra, and Chinook organic hops to bring out huge aromas and flavors of tropical fruit, pine, papaya, and rose. Protector chose Cheveyo, which means "Spirit Warrior" in Native American, in appreciation and respect for the interconnectedness of all life, and they wanted to pay tribute to their Native culture, especially in conjunction with the powerful Half Face logo.
Protector Citra Juicy DIPA
8% ABV, 70 IBU
Protector's Citra Juicy DIPA uses a Pilsen malt base to ensure insane amounts of Citra and Mosaic hop flavors and aromas. They add a small amount of oats to stabilize the haze and mellow the high alcohol. Expect clean bitterness and a nice, crisp finish.
LINK: Peaks & Pints cooler inventory
---