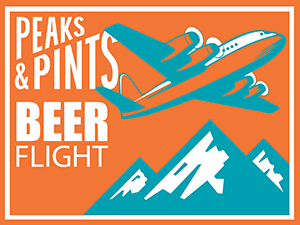 Summer is upon us. Congratulations for making it this far, everyone. Among the many things that means — your eight-year-old's guitar camp, heading to the beach, free summer concerts, calls to the mosquito and tick control company, commit to cleaning out the garage and quit when you find a wasp nest that sprang up overnight, head to a garden store and commit to murdering five varieties of plants — is that summer bangers season is here. But what exactly is a summer banger? Simply stated, it's a juicily fruity, tartly bitter IPA or pale ales. It's full-bodied but brightly refreshing, finely balanced beer of big flavor yet peerless drinkability. Stop by Peaks & Pints today and grab a to-go flight of summer beer bangers loaded with assertive, juicy hop character that you could happily drink all day and night — a flight we're calling Peaks and Pints Pilot Program: Summer Bangers Beer Flight.
Peaks and Pints Pilot Program: Summer Bangers Beer Flight
Wet Coast Whisper Sister Hazy Pale
5% ABV, 32 IBU
In the slang of the prohibition era, a "whisper sister" was the nickname given by the flappers to a female proprietor of a speakeasy. In the modern-day era, a Whisper Sister is the name of a hazy pale ale brewed by Wet Coast Brewing in Gig Harbor, Washington. This easy-drinking pale is brewed with a hefty dose of oats. Vermont IPA yeast brings the haze and bolsters the tropical and citrus notes of El Dorado and Falconer's Flight hops.
E9 So What
6% ABV
When we're talking about beer, the term "juicy" refers to the aroma and taste of the beer being reminiscent of fruit juice, typically citrus or stone fruit. These flavors and aromas can be affected by things like yeast esters, but a juicy IPA is all about the juicy hops. Most of these beers use fruit-forward hops like Citra, Mosaic, Galaxy, Amarillo, Idaho 7, Sabro, and El Dorado. E9 Brewing brewed their So What IPA with Citra, Mosaic and Simcoe for aromatics of citrus, peach, melon, and tropical fruits thanks to a massive double dry hop regimen.
Wander Crepuscular Rays
6.2% ABV
Bending towards the clean and crisp side of the juice spectrum, Wander Brewing Crepuscular Rays brings mega-mellow honeydew melon bursts dashed with bright bubblegum resonance thanks to a snappy meeting of Amarillo, Cashmere, and Idaho 7 hops. It hits the nose with citrus and pineapple, followed by some sweetness and tartness.
Block 15 Tropicolor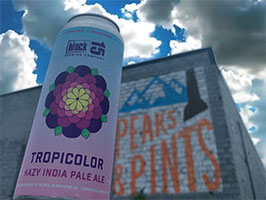 6.3% ABV
Capturing the freshest, juiciest hop character from a trifecta of Idaho 7, Sabro and Bru-1 varietals, Block 15 Brewing's Tropicolor hazy IPA exhibits huge notes of ripe mango and pina colada. Soft bodied, with balanced bitterness and a moderate haze, Tropicolor is a highly drinkable IPA with tropical twist.
LINK: Peaks & Pints cooler inventory
---