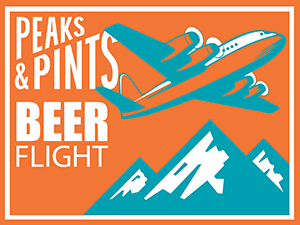 Smoothie sours are a thing. These beers are often with so much fruit puree that they look less like beer and more like a thick 7-Eleven Slurpee. Most of the smoothie sours have a kettle sour base in which the wort is allowed to cool in the brew kettle. Then lactobacillus (a bacteria in yogurt, cheese, and sauerkraut) is introduced. After a day or so, the mash becomes sour, and the brewing process is restarted with enough heat to kill the bacteria. Many breweries use a tart Berliner weisses as the base beer; then a crazy amount of fruit is added just before packaging. We're talking about three pounds of fruit per gallon of beer. That's why they turn out like a slushie or smoothie. Lactose is also a common ingredient, which lends even more body. This beer is left unfiltered, further adding to its viscous appearance. Today, Peaks & Pints suggests a to-go flight of smoothie sours for the holiday weekend — a flight we're calling Peaks and Pints Pilot Program: Fun Sour Beer Flight.
Peaks and Pints Pilot Program: Fun Sour Beer Flight
Prairie Peanut Butter & Jelly Squeeze!
5% ABV
After sharing their different and experimental variations of saisons working as gypsy brewers, brothers Chase and Colin Healey decided it was time to have a brewery of their own. They raised more than $20,000 on Kickstarter with the help of fans and formed Prairie Artisan Ales in Tulsa, Oklahoma, in 2012. Chase Healey grabbed the brewhouse while his brother is the talent behind the fun, funky branding, and logo design. Their Peanut Butter & Jelly Squeeze! fruited sour ale is full of blackberry, blueberry, boysenberry dry roasted peanuts, and peanut butter, and tastes like you're eating your favorite childhood meal.
Hoosier Spin To Win – Ace
5.5% ABV
In 2015, founder Brian Nentrup opened Hoosier Brewing with an investment group in Greenwood, Indiana, then closed in 2018, only to re-open a year later with new investors. The small batch craft brewery focuses on crazy juicy IPAs, silky stouts, mouth-watering sours, crisp lagers, and fruity Berliner smoothies, which all can be enjoyed with throwing axes in their taproom. Their Spin To Win – Ace fruited sour features crazy amounts of real strawberry, blueberry, and gooseberry puree for a clean, tart, and super refreshing beer.
Imprint Schmoojee Joose
6% ABV
The next stop is Hatfield, Pennsylvania, where Imprint Beer Co. has been brewing beer since 2017. They have gained a loyal following in the beer community with its diverse and innovative offerings, from juicy IPAs to sweet pasty stouts, heavily fruited smoothie sours to traditional German lagers. A collaboration with The Answer brewpub in Richmond, Virginia, Schmoojee Joose features passionfruit, orange, coconut, rum-soaked pineapples.
Oozlefinch Sloshie – Tropical Fruit
6% ABV
In early September 2016, Russel and Rebekah Tinsley opened Oozlefinch Beers & Blending in Fort Monroe, Virginia with an emphasis on sours. Rachel Howard joined the team as a bartender while finishing her Chemistry major at Christopher Newport University. She finally discovered what she wanted to do with her major — brew beer. Today, she's the head brewer at Oozlefinch. Her Sloshie – Tropical Fruit smoothie style sour ale is brewed with pineapple, kiwi, banana, blueberry, lactose, and vanilla.
Ever Grain Sorbetto #46
6% ABV
For 10 years Hollis Wood had beer nerds lined up outside Skookum Brewery clamoring for his hazy IPAs, barrel-aged beer, and fresh hops. During the pandemic, Wood relocated to Camp Hill, Pennsylvania to brew Ever Grain Brewing beer in a new 17,000-square-foot brewing facility and restaurant. We're excited to announced that beer drinks in Baltimore, Pittsburgh, New York City, and other East Coast cities won't be the only ones enjoying Wood's wood-aged beers and such as Hollis Wood makes it Grain at Peaks and Pints now. Ever Grain Sorbetto #46, the 46th version of Ever Grain's Sorbetto kettle sour series, is a chocolate berry bomb with a hint of marshmallow.
Shades Kveik Peach Cobbler
6.5% ABV
Winner of the bronze medal at the World Beer Cup in 2022, Shades Brewing' Kveik Peach Cobbler smoothie sour is brewed with peach purée, cinnamon, vanilla, graham cracker, and milk sugar. The aroma is peaches, cinnamon, fruity sweetness, a lemon-like tartness, graham crackers, toasted crackers, and a touch of floral followed by notes of peaches, biscuits, toasted cereal, cinnamon, a slight hint of milk, lemon tartness, and vanilla.
Froth Lifted Lollipop
6.5% ABV
Longtime San Diego brewer Jesse McLaughlin opened Froth Brewing in North Buffalo, New York, with business partners Eli and Travis Hale. McLaughlin, Williamsville South graduate attended San Diego State University to study craft beer the city's brewery scene exploded. After eight years in the sun, he returned to his home state for more snow and, more likely, to brew his own beer. Today, Froth specializes in smoothie and slushie sours, especially their Lollipop series, including Lifted Lollipop Strawberry, banana, Coconut, White Chocolate triple fruited sour ale.
The Brewing Projekt Dezzert Fight
6.7% ABV
In April 2015, Will Glass opened The Brewing Projekt in Eau Claire, Wisconsin. The Glass became more than half full of hoppy IPAs, then hazy IPAs, then milkshake IPAs, and now smoothie and fruited sours, including the Dezzert Fight. A collaboration with Dangerous Man Brewing, this dessert sour is brewed with milk sugar, cream cheese powder, blackberry, pineapple, soursop, graham cracker flavoring, and vanilla.
Heathen Tribal Jam: Mai Mai Mai
7.1% ABV
Sunny Parsons founded Heathen Brewing in 2012 in a converted barn near his home in outer Vancouver. With "Progressive Ales for the Promiscuous Palate" as the mission statement, Parsons and co-owner and head brewer Rodney Stryker made small batches with local ingredients basically in the backwoods before opening their Feral Public House, a 2,000-square-foot restaurant and taproom in downtown Vancouver in 2015. Smoothie sour beers are the evolution of the fruited kettle soured beers when brewers add non-traditional ingredients to traditional styles to recreate baked goods and desserts in liquid form. At their essence, when talking about smoothie sours, the common denominator is always extremely large amounts of unfermented fruit puree, which is the case with Tribal Jam: Mai Mai Mai, a Mai Tai inspired smoothie sour with cara orange, sweet cherry, lime, almond, vanilla, and sea salt.
450 North SLUSHY XL Popsicle Rocket
7.35% ABV
The idea of a farmhouse brewery often conjures up thoughts of rustic ales, spontaneously fermented concoctions, and tranquil yet complex recipes that that are brewed while roosters welcome the day. In 2000, David and Brenda Simmons added Simmons winery to their family farm in Columbus, Indiana. Twelve years later, they opened 450 North Brewing on the farm with IPAs on tap, then hazies and now crazy smoothie sours such as SLUSHY XL Popsicle Rocket, a fruited Berliner weisse conditioned on raspberry, sweet cherry, and lemonade.
LINK: Peaks & Pints cooler inventory
---