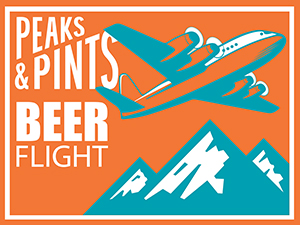 For whatever reason, Peaks & Pints has recently received a plethora of beers brewed with coffee and beers brewed with strawberries. Since we have recently introduced to-go flights of both flavors, we decided to combine the two flavors into one flight. Berries contain one of the sweetest flavors imaginable, like fresh sugar with a hint of wonderful tart. While on the other hand, coffee is distinctly bitter and bold. The combination of these opposite flavors brings out the best in both without sacrifices. At the same time, it makes the sour and bitter notes of your cup more palatable and the sweetness of the berries less overwhelming. Of course, none of that matters when the flavors are in beer. We just needed a reason to notify folks that we have new strawberry shortcake and coffee beers. Stop by our craft beer and cider bar, bottle shop and restaurant in Tacoma's Proctor District and grab Peaks and Pints Pilot Program: Strawberry Shortcake and Coffee Beer Flight.
Peaks and Pints Pilot Program: Strawberry Coffee Beer Flight
Claim 52 Thicc: Strawberry Shortcake
5% ABV
In 2012, Mercy McDonald, Jeannine Parisi and Trevor Ross opened Claim 52 Brewing in West Eugene. Named after a donation land claim number and refers to the original tract of land in Eugene settled by pioneer William Luckey in the late 1800s. Claim 52's Thicc puree gose series has received inspiration from strawberry shortcake and, quite frankly, the exact flavors.
Drekker Slang Du Jour – Strawberry Shortcake
5.9% ABV
In the early 1600s, William Shakespeare used the name Alice Shortcake in "The Merry Wives Of Windsor." By 1850, strawberry shortcake was a well-known biscuit and fruit dessert served hot with butter and sweetened cream. Drekker Brewing's version is a pastry sour loaded up with strawberry, shortcakes, lactose, and vanilla soft serve ice cream.
Great Notion Strawberry Shortcake
6% ABV
Great Notion Brewing brewed a strawberry version of their Zest Berliner Weisse series, the cousin to their Blueberry Muffin and Key Lime Pie sours. Made with Oregon-grown strawberries, this sweet, tart ale hits the nose with strawberries and cream. Strawberry candy dominates the tongue with hints of vanilla cream and cream of wheat peeking through.
Fortside Magic Beans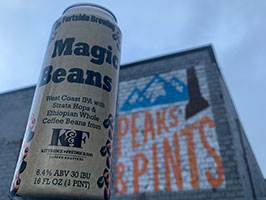 7% ABV
Once upon a time there was a brewery in Vancouver, Washington, called Fortside Brewing. One day, a Fortside assistant brewer, while on his way to work, stopped at K&F Coffee Roasters for a cup. The barista gave the brewer magic beans for a Fortside sticker. When Fortside head brewer Paul Thurston wasn't looking, the assistant brewer tossed the beans into a batch of West Coast IPA brewed with Strata hops. The resulting strong coffee aroma and flavor, as well as the nice finishing bite, allowed the assistant brewer to keep his job.
E9 Puff Coffee Imperial Stout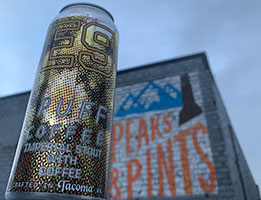 9% ABV
Two years after selling his Stumptown Coffee Roasters in Portland, Oregon, in 2015, Duane Sorenson opened "itsy bitsy teeny weeny coffee company," Puff Coffee. He went back to his coffee roots, roasting tiny batches of superb coffees from farms with whom he's built decades long relationships. Puff collaborated with E9 Brewing in Tacoma on an imperial coffee stout carrying the Puff name. Brewed with Sumatran grown beans roasted by Puff Coffee, this stout carries a big roast.
Fat Orange Cat Purrkatory Imperial Coffee Stout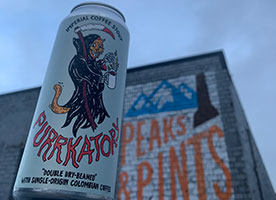 11% ABV
Milk stouts — also sometimes called cream stouts — are dark beers brewed with lactose, a type of milk sugar. Lactose does not ferment when exposed to beer yeast, and so it lends this style of brew a subtle sweetness. Fat Orange Cat Brew Co. brewed an imperial version showcasing coffee hand selected by Perkatory Coffee Roasters in Middletown, Connecticut. For this initial batch, they "double dry-beaned" the beer with single-origin Colombian coffee beans, then infused it with Colombian cold brew. Expect sweet creamy coffee goodness with lovely roast.
LINK: Peaks & Pints cooler inventory
---