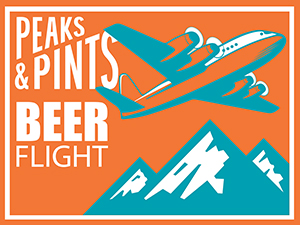 Just when Peaks & Pints thought we'd have to cancel our annual February Stout Month celebration, Gov. Jay "Stout Is Life" Inslee allowed us to re-open for in-house drinking and dining this past Monday. February 2021 Stout In and Out is on! The Tacoma Proctor District craft beer lodge will tap five stouts on our Western cedar tap log through February for in-house enjoyment and Campfire Crowlers to go. Enjoy stouts, milk stouts, imperial stouts, pastry stouts, nitro stouts and other variations from your barstool or from your couch. Today, we add a to-go flight of stouts — a flight we call Peaks and Pints Pilot Program: Stout Month On The Fly.
Peaks and Pints Pilot Program: Stout Month On The Fly
Fort George Matryoshka 2020
12.8% ABV, tulip glass, Campfire Crowler
Fort George Brewery's Astoria With Love Russian Imperial Stout delivers some bitter chocolate to balance the cocoa sweetness, plus a deep roasted backbone. When it's aged for a year in Kentucky bourbon barrels it become Matryoshka. It has a rich nose with strong bourbon, some milk chocolate and a whiff of coffee to it. The first sip delivers heat. Dark fruit flavors follow, as well as some pipe tobacco overtones. The back half is semi-sweet, chocolate-y, with a slight coffee bitterness keeping the sweetness in balance.
Bend Trade War Export Stout
7.5% ABV, 31 IBU, can to-go

Bend Brewing's foreign style stout is brewed with a blend of Golden Promise and Canadian two-row, six different specialty malts and flaked barley. The mouthfeel is slick and full, rich and oily. The aroma of coffee and chocolate hit first, followed by toasty malts and a slight hoppy scent. The taste stouts full of dark malt flavor, coffee, burnt caramel and decadent chocolate. The finish has a sneaky chocolate milk-esque attack that slides in and lingers a bit after the flavor evolution.
Ecliptic Barrel-Aged Oort Imperial Stout
11% ABV, 30 IBU, bottle to-go
Oort? If you know anything about Ecliptic Brewing founder John Harris, you know in addition to creating many of Deschutes Brewery's flagship recipes he is also an astronomy buff. An Oort Cloud is an extended shell of icy objects that exist in the outermost reaches of the solar system. It is named after astronomer Jan Oort, who first theorised its existence. It's roughly spherical and is thought to be the origin of most of the long-period comets that have been observed. The Northeast Portland brewery's Oort has massive amounts of roasted barley combined with three types of Caramel malts for a rich, full mouthfeel. Chinook, Cascade, and Sterling hops lend a balanced bitterness and subtle hop flavor. This barrel-aged version slumbered for 12 months, imparting notes of rich, bitter chocolate, vanilla and oak.
Left Hand Bittersweet Imperial Coffee Milk Stout
8.9% ABV, 54 IBU, can to-go
Left Hand Brewing's Bittersweet Imperial Coffee Milk Stout goes big with an aggressive boost from Allegro Coffee's exotic mocha java blend. The coffee's dark cherry flavors and spicy undertones weave into the rich milky sweet stout like a chocolate-covered espresso bean melting on your tongue. Bitter then sweet. Sweet then bitter. It's bittersweet.
---