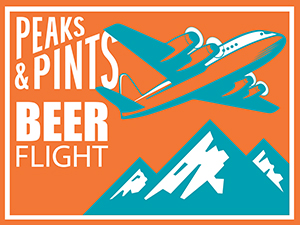 The nights are longer. And colder. Peaks & Pints will serve five beers as dark as the 5 p.m. sky for today's to-go beer flight as it's International Stout Day. The original "stout porters" of 18th century London were brewed for their heartiness in the face of harsh storage conditions. That's right; stouts didn't start as a style; it started as an adjective. Had you walked into a pub around 1750, you likely would have called for a stout porter. Then in the early 1800s, the Irish brewery Guinness brought the alcohol content down to just over 4 ABV, and started sending their iconic beverage to the States in 1817, converting stout from adjective to noun. In 1992, the industry's first stout aged in a bourbon barrel was initially tapped at Goose Island's Clybourn Avenue brewpub. Ready the #StoutDay for our to-go stout flight, Peaks and Pints Pilot Program: Stout Day On the Fly.
Peaks and Pints Pilot Program: Stout Day On the Fly
Logsdon Before The Dawn
9% ABV
Logsdon Farmhouse Ales' Before The Dawn is a blended imperial stout brewed with UK malts and aged in American oak bourbon barrels from Heaven Hill and Buffalo Trace. Generous amounts of Pale Chocolate malt provide chocolate flavor and deep black color. The higher ABV is masked by a deceptively smooth flavor with just a hint of residual sugar. A fittingly dark beer to kick off the dark season.
To Øl Licorice Confidence
14% ABV
To Øl Licorice Confidence is a deep fat imperial stout packed with hard roasted malts, some chili to add a spicy level and licorice for extra complexity. The Ancho, Guajillo, and chipotle chilis had settled for a nose more sweet dark toasted malt, chocolate, and licorice than pepper. Flavor is dark toasted malt, chocolate, light vanilla, mild licorice, and a subtle chili finish, which also leaves a lingering molasses.
Ninkasi 2017 Ground Control
10% ABV, 50 IBU
Consider space. Albert became the first monkey in space June 11, 1948, when NASA sent a V2 rocket carrying him up 83 miles. Laika the dog became the first Earth-born creature to orbit the Earth when the Russians sent her into space atop a Sputnik rocket on Nov. 3, 1957. Countless astronauts have since ventured into space, traveling as far as the moon. So is it surprising that Eugene beer maker Ninkasi Brewing decided to launch several vials of yeast into space aboard a rocket and then retrieve the yeast to brew beer from it? Live long and prosper, Ninkasi. In October 2014, six vials of brewer's yeast traveled up 77.3 miles aboard a UP Aerospace Inc. rocket, returning safely to Earth and cold-transported back to Ninkasi's lab in Eugene, where it was propagated and tested before being used to ferment Ground Control, a rich, complex imperial stout brewed with Oregon hazelnuts, star anise and cocoa nibs, hops of Apollo, Bravo and Comet, and fermented with an ale yeast that survived a trip to space and back. The 2017 version, the third-edition release, is a blend of fresh Ground Control and Ground Control aged in Woodford Reserve Bourbon Barrels, offering hazelnuts without minimizing the bourbon loveliness.
Pike XXXXX Stout
7% ABV, 65 IBU
XXXXX marks the spot. While stouts share many key attributes, there is still plenty to differentiate them. For example, all stouts are very dark beers and they all have roasted grain notes. They all have alcohol, fruity esters, hop bitterness, hop character and residual sweetness too, but it is the prominence or subtlety of these attributes that differentiate one style from another. Pike Brewing's XXXXX Extra Stout arrives one X short of the boozy Russian Imperial Stout but its flavor is still five-times supersized over dry stouts such as Guinness. Wafts of dark chocolate and coffee tantalize the nose; though, in the flavor, rich dark burnt malt flavor dominates the palate, molasses sweetness in the middle, with dark coffee and espresso that lend bitterness throughout the taste. Extra delicious, you might say.
Everybody's Uncle Stepdad
10.8% ABV, 90 IBU
Everybody's Brewing Uncle Stepdad started his life as Everybody's imperial stout. He was already pretty cool. But, after 10 months of aging in bourbon barrels during the winter, spring and summer, he's a new man. Wiser, more sophisticated, and complex, Uncle Stepdad offers a combination of chocolate, rusted Dodge on blocks, raisins, pizza stains on the wifebeater, dark cherries, Confederate flag, vanilla, hefty bag for a window, and chocolate. Expect subtle but fantastic bourbon notes and an Iroc Z on the finish.
---