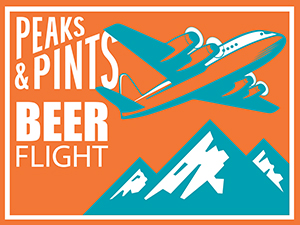 Rob Lutz' beer career began as a keg washer at Amnesia Brewing, the North Portland brewery that opened in May of 2003 on Mississippi Avenue. Amnesia moved to Washougal, Washington, then folded. Lutz went in the opposite direction. In late 2014, he and Dan Malech opened StormBreaker Brewing in Amnesia's former spot. Their creative beer lineup earned awards. The duo opened a second spot in Portland's St. John neighborhood, as well as expanded their Mississippi location, adding an axe-throwing platform. Today, Peaks & Pints presents a to-go flight of StormBreaker beer that we call Peaks and Pints Pilot Program: StormBreaker On the Fly.
Peaks and Pints Pilot Program: StormBreaker On the Fly
StormBreaker House Martell
6.5% ABV, 55 IBU
House Martell is the ruling family of Dorne, the southernmost region of Westeros and the only region of Westeros to successfully resist the conquest of Aegon the Conqueror. Yes, indeed, StormBreaker House Martell is a Game of Thrones themed Single hop hazy pale ale brewed exclusively with Citra hops for aromas of grapefruit and melon. It's light bodied, yet juicy and finishes clean; indicative of the house it is named after.
StormBreaker Son of Jango: Cloud City Edition
6.7% ABV, 60 IBU
Boba Fett was created as a clone — part of a larger operation producing clones as soldiers to fight for the Galactic Federation. The owner of the DNA being cloned, a bounty hunter named Jango Fett, agreed to participate on the condition that he would be permitted to raise one of the clones as his own son. Boba grew up on Kamino, and was taught by Jango the skills required for what would become his future profession. The baddest bounty hunter in the galaxy deserves the baddest IPA. Brewed with Falconer's Flight, Galaxy, and Mandarina Bavaria hops, this juicy, hazy IPA has notes of tropical fruit and a mean juicy, dank bite with a dry finish.
StormBreaker Cloud Ripper
6.4% ABV, 78 IBU
Majestic mountains are often called cloud rippers, including Cloudripper mountain in California, although anything that breaks through clouds is a cloud ripper. StormBreaker Brewing's Cloud Ripper breaks through the clouds, if you call a hazy IPA a cloud. This clean, clear IPA is brewed with seven hop varietals — Amarillo, Cascade, Centennial, Citra, Galaxy, Nugget, and Summer. It hits the nose with indistinct citrus with some pine notes. On the tongue, expect a citrus medley of orange, tangerine, and some grapefruit. Appropriate bitter hops zing with just the right amount of dankness in the mix.
StormBreaker Triple Double
8.5% ABV, 90 IBU
A triple-double is defined as a performance in which a basketball player accumulates a double-digit number total in three of five statistical categories — points, rebounds, assists, steals, and blocked shots — in a single game. Achieving a triple double in hoops is impressive, but achieving it in your beer is even better. With 10 hop additions of three hop varietals, Mosaic, Citra, and Amarillo, this beer scores on your palate, rebounds in your nose with big aromas of grapefruit citrus and pineapple, and is assisted by the punchy, juicy citrus flavors to balance the slight upfront bitterness and big.
---