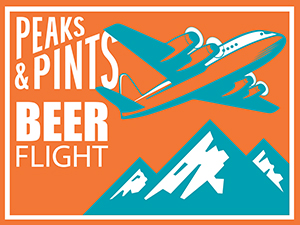 It's National Devil's Food Cake Day! Devil's food cake is a wholly original American creation and a truly classic confection; the earliest known recipe appeared in The Janesville Gazette in 1905. Devil's food cake is richer, darker and fluffier than any regular chocolate cake can ever be — it has been called the chocolate version of an angel food cake. And it's all thanks to the use of cocoa powder and the extra dose of baking soda it calls for. Recipes use hot or boiling water as the primary liquid. While chocolate cake usually calls for melted chocolate, devil's food cake relies on the rich flavor of cocoa powder — and sometimes coffee — for its robust, chocolaty taste. The extra dose of baking soda not only raises the pH levels giving this cake its deep dark color, but also makes it just a little bit fluffier in texture. A delicious chocolate frosting usually accompanies the cake. But you don't need to bake an entire cake (from scratch or a box) to indulge. Just order Peaks and Pints to-go chocolate beer flight, Peaks and Pints Pilot Program: Devil's Food Cake On the Fly.
Peaks and Pints Pilot Program: Devil's Food Cake On the Fly
Young's Double Chocolate Stout
5.2% ABV
Based out of England, Eagle Brewery now brews Young's Double Chocolate Stout, the famous chocolate stout that combines a roasted malt with cocoa in the style of a sweet stout by using a proprietary blend of sugars instead of lactose. Creamy chocolaty sweetness coats the tongue like liquid silk. The malty, chocolaty smoothness dives into roasted malt bitterness that tingles through the aftertaste with vanilla accents. The chocolate's truly the chip off the old stout.
Abomination Midnight Snack #2
13.2% ABV, 7 IBU
This is the second iteration of Abomination Brewing's Midnight Snack. Brewed with midnight wheat, flaked oats and lactose, then conditioned atop a monstrous amount of cacao nibs and vanilla bean for a thick, super fudge-like chocolate cake imperial dessert stout. According to the North Haven, Connecticut brewery, this imperial stout pairs well with sweatpants and not leaving your house.
High Water Campfire Stout
6.5% ABV, 38 IBU
This pitch-black stout is impenetrably dark and tastes of liquid s'mores. That may sound ridiculous, but High Water Brewing didn't overdo the flavor of graham cracker, and the marshmallow is mostly in the nose. As for chocolate? Well, we'd be lying if we said there was no room for chocolate notes in beer. "Flavored" beers should be met with caution, and often they have a polarizing effect on their audience. But there's definite charm in a beer that has you reliving childhood memories of eating marshmallows until your fingers were forever glued together and unrolling that worn flannel sleeping bag so you could fall asleep under the stars.
Rogue Chocolate Stout
5.8% ABV, 69 IBU
In 1988, down in Ashland, Oregon, Jack Joyce brewed Rogue Ales in a basement. A year later, he opened a second location in Newport, Oregon, where John Maier created Rogue Ales brew #1 (he retired last summer). One of the pioneers in the craft-brewing world, Rogue consistently puts out award-winning beers year after year, winning gold in national and international competitions. Chocolate Stout is Rogue's platinum award-winning Shakespeare Oatmeal Stout — one of the highest rated stouts in the world — infused with decadent Dutch chocolate.
---