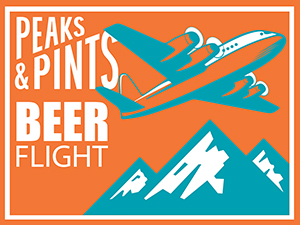 Since Greg Koch and Steve Wagner founded it in 1996, Stone Brewing Co. has been producing an ever-expanding line up of well-crafted and often in-your-face beers and interesting collaborations. Stone's gargoyle mascot watches over each of these beers, attempting to draw in their ideal consumer and to scare off the Keystone-swilling undergrad that stumbled into the display. Don't let them intimidate you. Known for their bold, flavorful and largely hop-centric beers, Stone has earned a reputation for brewing outstanding, unique beers while maintaining an unwavering commitment to sustainability, business ethics, philanthropy and the art of brewing. The Brewers Association just released its annual list of the top 50 producing craft brewing companies in the U.S., based on beer sales volume, and Stone sits at number nine. Today, Peaks & Pints presents a to-go flight of Stone beers — a flight we call Peaks and Pints Pilot Program: Stone Brewing On The Fly.
Peaks and Pints Pilot Program: Stone Brewing On The Fly
Stone Enjoy By 4.20.21 Hazy IPA
9% ABV, 50 IBU
In late summer 2012, Stone Brewing blew minds with a new imperial IPA. OK, the Escondido, California brewery brews a lot of imperial IPAs, but this one was light in body, had late-addition hops to the gills, scaled back finishing bitterness and designed to perish within a short window of time. Stone releases its Enjoy By series quarterly, including the first every hazy edition, Enjoy By 4.20.21. Brewed with Rakau and Citra hops, this hazy double IPA offers plenty of sweet orange, tropical fruit, peach, and apricot.
Stone Scorpion Bowl IPA
7.5% ABV, 76 IBU
Stone's IPA version of a Scorpion Bowl cocktail is a brash, Mosaic, Loral and Mandarina Bavaria hop-forward ale that hinges on an assault of fruit that is so bold it borders on being electric. There's a wee bit of pineapple, Mandarin orange and mango in the middle of the sip — and all the passionfruit — but all of the fun stuff happens in your mouth after the Scorpion disappears. That's when an intense, tart fruitiness takes over, like you're sucking on one of those sour candies. The finish is dry at first, but then your mouth starts to water again, and that fruitiness comes back with a vengeance.
Stone Delicious IPA
7.7% ABV, 80 IBU
Delicious IPA features Lemondrop and El Dorado hops that showcase vibrant citrus flavors and is notable for what the brewers have removed from the brew: much of the gluten. An enzymatic process developed by White Labs (producers of myriad yeast strains used by craft brewers) breaks down the gluten proteins, and the results is a nearly gluten-free beer that avoids the pitfalls (like the off-putting mouthfeel) often seen in gluten-free brews. But the reduced gluten levels are not the defining feature of Delicious IPA. Living up to the name, the IPA demonstrates a terrific volume of complex hop flavors. With a curiously light yet still tongue-coating body, each sip explodes with flavor — lemon zest, lemon grass, Lemon Pledge — before the bitter bite cascades across the palate, where it lingers stubbornly but never becomes acrid.
Stone Viking Space Probe Double IPA
8.5% ABV, 80 IBU
Brewed at Stone Brewing's Napa Valley complex, the new Viking Space Probe Double IPA sports a subtle haze reminiscent of some far-off nebula, and further complimented with the juicy flavors of orange, Fuji apple and pineapple from Ella and Citra hops, this beer is most definitely out of this world.
Stone Arrogant Bastard Ale
7.2% ABV, 100 IBU
Stone Arrogant Bastard is less-than-amber but more-than-pale IPA with a little "oomph" in the malt and hops department. The malt profile of Arrogant Bastard, while not overwhelming, definitely has a good backbone of caramel, rich, and somewhat raisin-bread type toasty flavors. It has more richness than your standard IPA. This malt body is balanced with a very aggressive-tasting hop treatment using the Chinook, giving it a West Coast citrusy bitterness, but also contains a richer, herbal, and maybe even a bit of a "rough" pungent element.
LINK: Peaks and Pints cooler inventory
---