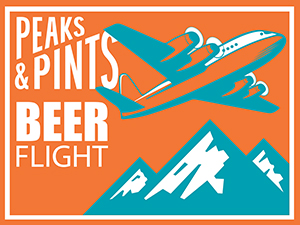 Portland, Oregon, is home to an abundance of old church buildings. Their spires front the hilly backdrop and skyline, adding to each neighborhood's unique fabric. Changes in the city dynamics, though, have left many of these architectural stunners empty, abandoned, and crumbling. Across the city, though, several of these old buildings have experienced a revitalization where they've been repurposed for other uses — born again, including a 1909 church on the corner of Northwest Broadway and 24th, a tall, craftsman-era chapel made of Pacific Northwestern fir and cedar that now is a church of fermentation. In 2019, Brody Day and Dustin Harder converted the church into Steeplejack Brewing, a brewery, taproom, and restaurant that still looks like a church — a very cool church. The building's stained glass windows loom above the brewery's tanks and bar, and pews serve as banquettes for the wooden tables at the center of the space. Today, Peaks & Pints presents a mini to-go flight of Steeplejack beer — a flight we're calling Peaks and Pints Pilot Program: Steeplejack Beer On The Fly.
Peaks and Pints Pilot Program: Steeplejack Beer On The Fly
Steeplejack Witness Mark
3.5% ABV
Brewed in collaboration with Obelisk and Wayfinder Beer, using 100 percent Admiral malt, this English bitter has complex malt flavors of multigrain toast, hazelnuts, and honey. The use of all whole leaf Sterling and Mt. Hood hops adds notes of black tea, sweet tobacco, and cedar.
Steeplejack Alewife
4% ABV
Alewife, also brewess or brewster, is a historical term for a woman who brewed ale for commercial sale. In 5th century England women were responsible for brewing the household beer. Steeplejack salutes these hard-working women with a traditional dark mild brewed with English Ale yeast and cask conditioned. This light yet flavorful beer has malty-sweet flavors of milk chocolate, warm oatmeal cookie, and dried fruit esters.
LINK: Peaks & Pints cooler inventory
---