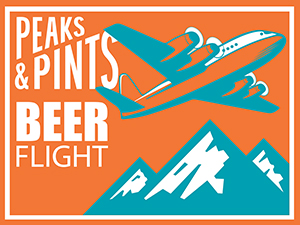 Cinco de Mayo is today, which means it's party time Senor Garth. The best Cinco de Mayo parties feature live mariachi bands, Mexican-inspired craft beer, dancing Chihuahuas and beer bongs made from Saguaro cactuses. Peaks and Pints will offer one of those treasures for our Cinco de Drinko — Mexican-inspired craft beer on draft and in the cooler, a Mexican-inspired to-go beer flight we call Peaks and Pints Pilot Program: Mexican Lager On The Fly, and a special Mexican sandwich special.
Mexican lagers are popular. Two of them — pFriem's Mexican Style Lager and Pelican Pelicano Extra Mexican lager — made the Final Four of our Peaks and Pints Tournament of Beer: Northwest Lagers. Mexican lagers existence is to lull the drinker into a 20-minute vacation. Or to soothe a cedar-torn throat after an afternoon embodying the most fearless grass manicurist on God's green earth. Originally, Mexican-style lagers were simply Vienna-style lagers based on the preferences of early German expats in Mexico. But based on contemporary Mexican lagers, we're seeing more American pale lagers tagged as Mexican lagers.
Swing by Peaks & Pints and grab these Mexican lagers to-go. …
Peaks and Pints Pilot Program: Mexican Lager On The Fly
54-40 1862 Mexican Lager
4.3% ABV, 10 IBU
Mexican soldiers defeated French occupiers on May 5th of 1862. This battle was known as the Battle of Puebla and today celebrated in Mexico as El Día de la Batalla de Puebla, but in this country we simply celebrate it as Cinco de Mayo. That's the significance behind 54-40 Brewing's Mexican lager name, which is incredibly light bodied and drinks dry and crisp with a delicate touch of sweetness on the end.
Three Creeks Tres Arroyos Mexican Lager
4.5% ABV
Three Creeks Brewing brewed Tres Arroyos Mexican Lager with Pilsner malt and Saaz hops for a clean, crisp, and refreshing lager, while traditional flaked maize adds just a touch of sweetness. Specifically, Pat "Patio" Shea created the recipe for this Mexican lager. He's been around the Central Oregon brewing scene for ages and brewing in general for nearly three decades. Patio began his brewing career at Rock Bottom in Portland, then Anderson Valley Brewing, Deschutes Brewery, Crux Fermentation Project, 10 Barrel Brewing, GoodLife, and Three Creeks.
Kulshan Mexican Lager
4.5% ABV, 15 IBU
Kulshan Brewing is about as far as you can get from Mexico along the West Coast, but the Bellingham brewery brews a lovely Mexican lager with all Washington ingredients. With Willamette hops balancing a malt bill of 2-row, Vienna, Carafoam, and flaked corn, light crisp malt and slight corn notes are the central feature of this lager, with a dry, clean finish, and slight floral hop notes.
Wet Coast Costa Mejor Mexican Golden Lager
4.9% ABV, 20 IBU
The Mexican Lager style is controversial because it can refer to many different beers, but generally, the reference is to a clean lager with low bitterness and high clarity. The use of corn in the form of flaked maize is to enhance crispness and decrease the cost of the malt bill. Flaked maise is corn with proteins, oils and other components removed that can be added to a mash during the brewing process. Pilsner malt is typically the base malt with more of an amber color will commonly also use Vienna, Munich, Victory, and other similar malts to impart their respective characteristics. Wet Coast brews their Costa Mejor Mexican Golden Lager with Pilsner and Vienna malts and flaked maize plus a slightly spicy bouquet of hops.
Block 15 Sol Fresco
5.25% ABV
Block 15 Brewing's Sol Fresco was seeded number one in our recent Tournament of Beer: Northwest Lagers Southern Oregon Region. Even though Untappd lists it as a Vienna lager, we allowed it in the pale and light lager Tournament as "Mexican-style pale lager" dons their can label. According to Block 15, Sol Fresco, "balances gentle corn sweetness, light hop bitterness, and aroma with a crisp, clean finish."
LINK: Peaks & Pints cooler inventory
---