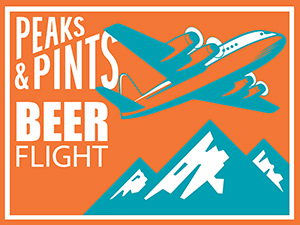 Here are a few things we know about hoppy beers: American drinkers flip out over them, which means breweries are going to keep brewing them, which means we're going to see continued releases of variations such as sour versions. Brewers are marrying two disparate flavors of hoppy and sour by subduing those major traits but playing up the fruity qualities each share to create something unique. They can make hoppy beer brighter, complex, and tantalizingly unique and refreshing. These brewers know bitterness is often going to be more prominently "on display" due to the clean playing field, but they're OK with it. Peaks & Pints is OK with it, too. Therefore, we're suggesting a to-go of sour IPAs — a flight we call Peaks and Pints Pilot Program: Sour IPA Flight.
Peaks and Pints Pilot Program: Sour IPA Flight
Equilibrium Raspberry Dimensions
7% ABV
Equilibrium Brewery's full, round and fluffy Raspberry Dimensions pours a frothy ruby red daiquiri color releasing sensations of tart and sweet raspberry jam, citrus, tropical fruit frosting, and nerds candy. The flavor follows with layers of raspberry filling interspersed between sandwiched-vanilla-sponge cake.
Skygazer Titan: Three
7% ABV
The third entry into Skygazer Brewing's Titan series, named after Jupiter's largest moon, Titan, this series explores alternative souring methods with the challenge of creating a base sour that is gently puckery, able to sustain heavy fruit loads and that finishes clean enough to support the presence of hops. Skygazer minimizes the overall bitterness to avoid a clash of fruit and bitterness. With version three, they brew a sour IPA with mango, apricot, vanilla beans, and milk sugar for a mango candy, smooth tart apricot, tangy tropical fruit drink that has an approachable level of tartness. It's dry hopped with a touch of Mosaic.
Mason Ale Works Remote Viewer
9.5% ABV
Mason Ale Works teamed up with Solaris Beer and Blending in Murrieta, California, to create this one-of-a-kind sour hazy double IPA brewed with peach and vanilla. The first whiff is heavy peach and some citrus notes but well balanced by the addition of vanilla. The vanilla notes linger in the finish with a subtle bitter and acidic refreshing mouthfeel.
LINK: Peaks & Pints cooler inventory
---