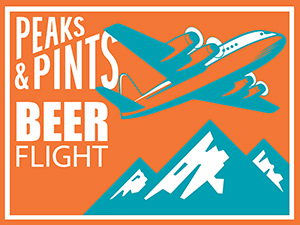 Let's face it, 2022 has been a dumpster fire. We could fill an entire novel with all the tragic and unfortunate events that have proved to be a major bummer over the past 12 months, but will instead focus on turning the page, moving on, and looking forward to a brighter future. New Year's Eve is an occasion to drink with friends (if you wanna), to dress up in your nicest duds (if you wanna), to laugh your ass off (if you wanna), and to remember all the good things that happened over the past 12 months (yes, there were some). Peaks and Pints offers a chill night of no cover charge until 10 p.m. when we take the following to-go flight home and ring in the New Year next to a fire quietly. Stop by our craft beer and cider lodge in Tacoma's Proctor for dinner then ring in the New Year with Peaks and Pints Pilot Program New Year's Eve Flight, too. Happy New Year!
Peaks and Pints Pilot Program New Year's Eve Flight
Drie Fonteinen Braambes Oogst 2020 Blend No. 21
5.5% ABV
Brouwerij 3 Fonteinen, or Drie Fonteinen, focuses on aging and blending the beers of other lambic brewers. It's a particularly Belgian concept that the creative process in producing a beer comes not when its ingredients are combined and fermented, but in how the resulting beer is aged and blended with other vintages to create a new transcendent concoction. Drie Fonteinen macerated hand-picked blackberries from Ferme Framboos in Huldenberg, Vlaams-Brabant, Belgium, for three months in a 50/50 cut with lambikken from five different barrels and five different brews. Before bottling, they added lambikken from another barrel and two different brews. The majority of the lambikken is 3 Fonteinen brewed, and one quarter of those are from their Brabant farmers' collective.
de Garde Vin Lee
7.4% ABV
Tillamook, Ore., is a sleepy, remote, and often damp coastal town 74 miles west of Portland. It smells of sea air and dairy farms. It's also home to founder and head brewer Trevor Rogers' de Garde Brewing, whose singular focus is spontaneously fermented, barrel-aged beers. The brewery, found near the Tillamook Air Museum's massive blimp hangar, lets their beer naturally ferment in an open-air cool ship, letting wild yeast descend from the Oregon Coast air. de Garde's Vin Lee is a spontaneous red ale with Syrah grapes aged in oak barrels for four years for a caramel, grape, funk, lemon, oak, and tannins nose, followed by wine grapes up front with some pleasant bitter barrel, lemon, oak, tannins, and plum with a lingering tartness.
E9 Brewing Triple B's
6.5% ABV
E9 Brewery, now E9 Brewing, has been, er, brewing in Tacoma since 1995. Over the years, and many batches of Tacoma-pleasing ambers, pales and IPAs, Head Brewer Shane Johns and his trusted assistant brewer, Donovan Stewart, created award-winning mixed-cultured beers that landed them in major sour beer festivals and write-ups in notable beer periodicals — right under Tacoma's nose. The cat is out of the bag, and Tacoma has joined the rest of the world worshipping what the duo can do with Brettanomyces, Pediococcus, and Lactobacillus. E9 brought their mixed-culture bag for Triple B's wild ale, fruited with boysenberry, blueberry, and blackberries. It pours a brilliant ruby color with a small, pink head. Translucent and jammy as hell, the fruit flavor is bright, light, and pleasurable.
The Ale Apothecary Sahalie
9.4% ABV
The flagship of The Ale Apothecary, Sahalie grabbed gold at the 2018 Brussels Beer Challenge. It's brewed with local Oregon barley malt, wheat, and last year's crop of Oregon Cascade hops, which are added to the boil copper for bitterness and dry hopped for a month in oak barrels. Hop bitterness and acid produced by Apothecary house lactobacillus culture provide the balance to the malt and oak structure of the beer, which is aged for a year in oak. Sahalie has a tropical and citrus fruit nose of apricots, pineapple, and orange produced from yeast esters and hop oils. The palate is tart and pithy, combining earthy and herbal undertones that evolve as the beer warms and opens up within your taster glass.
Holy Mountain The Ox
7% ABV
Holy Mountain Brewing's The Ox is fermented in oak barrels and then aged for four months in an oak foeder, using one of the brewery's favorite Brettanomyces yeast strains. This barrel-aged saison is brewed with orange zest and Cascade hops, and after time in the barrels, emerges with tart notes of orange and citrus on the nose followed by flavors of light oak, subtle banana, almond, citrus, earthy funk, honey, leather, spice, and vanilla notes. It's pleasantly tart, complex, and yet highly drinkable. The finish is an anticipated saison finish — dry and effervescent.
LINK: Peaks & Pints cooler inventory
---