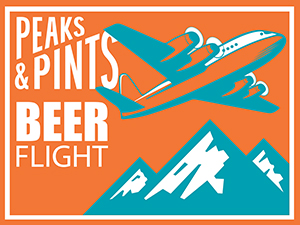 Sour beer is born when wild yeast, or bacteria, is introduced into the brewing process, creating varying flavor profiles, ranging from tart, acidic, lightly tangy to bold and mouth puckering. A sour is not a style of beer like an ale or a lager, it's more of a flavor profile. Any beer — even stouts and porters — can be turned sour. Traditionally, the process involves allowing a wild culture of yeast to spontaneously ferment a beer while it ages in a barrel. However, that process is quite protracted, and smaller brewers now sour their beers in closed kettles using lactobacillus — the same bacteria used to make sourdough bread — to do the work in a fraction of the time. Today, sour beers stand to do for tartness what IPAs did for bitterness in the early 2010s — to totally normalize a strong, odd taste to the palate of the American beer drinker. We created a to-go sour beer flight we call Peaks and Pints Pilot Program: Sour Beer On the Fly.
Peaks and Pints Pilot Program: Sour Beer On the Fly
Breakside Passionfruit Sour
5% ABV, 3 IBU
This is a Great American Beer Festival silver medal winning beer brewed as a traditional German Berliner weisse, and then the Oregon brewery adds a unique, tropical twist. Breakside Brewery uses lactic acid producing bacteria to produce a beer that is light in body, extremely refreshing, and mouth puckering tart. The addition of passionfruit in its lagering tanks gives this beer an inviting stone fruit aroma. The low alcohol allows you to drink it throughout the day.
Firestone Walker Krieky Bones
5.7% ABV
Traditionally, gold is given on a 50th wedding anniversary. What is traditionally given on a 50th birthday? Jumbo remote control? Atomic Nose and Ear Hair Trimmer? Emergency underwear? Firestone Walker proprietor David Walker received a sour cherry fermented beer for his 50th. A handful was sold at a release and the public went bonkers. Behold Krieky Bones! This beer begins its life as a Flanders Red inspired beer aged with Brettanomyces more than a year in French oak foeders. Sour Montmorency cherries are added and allowed a secondary fermentation. The aroma is of cherry pie complete with flavors of piecrust, spice and an underlying funk. Vienna malt notes give way to an assertive acidity and a bright carbonation.
Urban Family Dragon's Wrath
7% ABV
The plant it grows on is a member of the cactus family. While there are two main types of pitaya, sweet and sour, only the sweet variety is commonly known as dragon fruit. Its texture is often compared to kiwis, since they both have crunchy seeds. Sublime dragon fruit pairs wonderfully with raspberries, especial in Urban Family Brewing's Dragon Wrath sour. Refreshing and bright raspberry, accented with sweet, and subtly sour dragon fruit for a sour that's light on tartness, but big on fruitiness. Break out the tulips and flutes, and get ready for this refreshing raspberry dragon fruit sour.
---