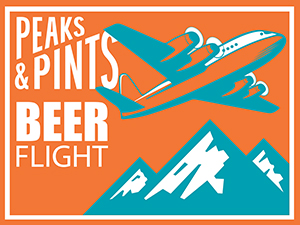 Welcome back to another edition of Peaks and Pints Pilot Program, our daily to-go beer flight. Peaks and Pints carefully calibrates algorithms constantly collecting data to produce the best daily craft to-go beer flights. Today, we don't need no stickin' algorithms. It's National S'mores Day. Today's beer flight writes itself, as they say. How much do you love the marshmallow, chocolate, graham combo? Bet if we throw in beer, it'll make it more dear. Indeed, s'mores are a simple backyard pleasure (unless you live in the core of the sun like our summer with burn bans galore) so we're pleased to have another excuse to get our marshmallow toast on today. Traditional s'mores with golden marshmallows over campfires are lovely, but to celebrate an unofficial holiday on a Tuesday in Tacoma, we'll take our s'mores flavored, to-go beer flight, Peaks and Pints Pilot Program: S'mores On The Fly.
Peaks and Pints Pilot Program: S'mores On The Fly
High Water Campfire Stout
6.5% ABV, 38 IBU
This pitch-black stout is impenetrably dark and tastes of liquid s'mores. That may sound ridiculous, but High Water Brewing didn't overdo the flavor of graham cracker, and the marshmallow is mostly in the nose. As for chocolate? Well, we'd be lying if we said there was no room for chocolate notes in beer. "Flavored" beers should be met with caution, and often they have a polarizing effect on their audience. But there's definite charm in a beer that has you reliving childhood memories of eating marshmallows until your fingers were forever glued together and unrolling that worn flannel sleeping bag so you could fall asleep under the stars.
Left Hand White Russian Nitro
8.9% ABV
While Left Hand Brewing Milk Stout Nitro in cans is by far their most widely-distributed nitro offering, the brewery has diligently worked to expand its canned nitro selection to include a variety of fruity and seasonal nitro releases, including White Russian Nitro. With coffee, vanilla, and notes of chocolate, this imperial stout has a nose of sweet smell of cocoa, a creamy mouthfeel, and the chocolate and vanilla notes found in s'mores.
Equilibrium Rocky Road Trip
11% ABV
Conditioned on cacao, vanilla beans, marshmallow, almonds, and walnuts, Equilibrium Brewing's Rocky Road Trip pours pitch black with a creamy tan head releasing notes of Rocky Road ice cream. Flavors of a smooth chocolate ice cream shake and dollops of chewy marshmallow swirls contrast with an almond nuttiness and a touch of walnut to create a balanced stout that pays homage to one of their favorite ice cream flavors. Decadent, creamy, and playful, this imperial stout will take to you back to sweet childhood memories around the campfire.
Omnipollo In Plenty
12% ABV
Swedes Karl Grandin and Henok Fentie are fancy. Their beer is fancy, thanks to homebrewer turn mad scientist Fentie. Their label art is fancy, thanks to visual artist Grandin. They don't brew much in Sweden, but they travel to fancy lands to brew their creative brews, many times with collaborating breweries. Since they founded Omnipollo in 2011, they keep a constantly curious, razor-sharp and fancy approach to everything they do. Inspired by those lovely decadent chocolate, coconut and vanilla filled cakes Omnipollo's In Plenty is a thick imperial stout full of cocoa nibs, really aromatic toasted coconut, and vanilla. It's rich, thick, and sweet.
LINK: Peaks & Pints cooler inventory
---