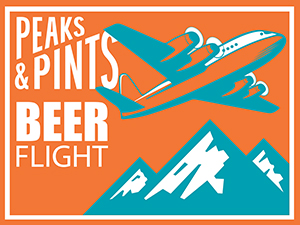 In 2016, Great Notion Brewing opened in Northeast Portland and opened the city's eyes. Owners James Dugan, Andy Miller, and Paul Reiter basically freaked out the city known as Beervana with their New England-style IPAs and boundary-pushing culinary-style beers. The awards followed: World Beer Cup, GABF, Best of Craft Beer Awards, and Oregon Beer Awards, as well as the 2018 #1 IPA in America from Paste Magazine, Ripe IPA. Great Notion was the first Portland brewery to become known for hazies, and the controversial style, and traditionalists hated it. Now the traditionalists are all wearing Great Notion T-shirts. In addition to their hazies, the brewery's barrel program offers award-winning American sour ales aged for 9-24 months in oak barrels with portion of their sour ales blended with Oregon fruit and freshly emptied bourbon barrels age their imperial stouts on ingredients such as roasted coffee, vanilla beans, chocolate, and maple syrup. Today, Peaks & Pints presents a to-go flight of Great Notion's barrel beers — a flight we're calling Peaks and Pints Pilot Program: Great Notion Barrels On The Fly.
Peaks and Pints Pilot Program: Great Notion Barrels On The Fly
Great Notion Baked (Cherry)
6% ABV
Great Notion Brewing is known for its award-winning barrel-aged sour ale program, which highlights native Oregon fruit such as strawberries, apricots, peaches, and in this case, cherries. Their tart series, Baked, features ales "that's just as good as a pie straight from the oven," according to the brewery. Turn off that oven and crack open Baked (Cherry) with its cherry, cinnamon, vanilla, and milk sugar.
Great Notion Strawberry Shortcake
6% ABV
Strawberry Shortcake is a tart ale made with Oregon strawberries and a swirl of vanilla. It's the strawberry version of Great Notion's Zest Berliner Weisse series, the cousin to Blueberry Muffin and Key Lime Pie. The nose is all strawberry shortcake followed by is more tart than cake with vanilla cream, pleasant strawberry flavor and actual shortcake texture and flavor. It's a drinkable dessert without being overly sweet.
Great Notion TWISTY
6% ABV
The "crazy" straw — you know, the one that lets you watch the liquid ride a small roller coaster in plastic before reaching your mouth — was the inspiration behind Great Notion's tart smoothie-style ale's name — "Twisty." It's brewed with a massive amount of strawberry puree, blueberry puree, and a touch of lemon. It's serious fruit leather cotton candy with a zesty tart note, plus strawberry and blueberry for days.
Great Notion Paradisio (Dragon Fruit, Passionfruit, Coconut)
7.5% ABV
Great Notion's Paradisio tart ales series is a vacation in a can with each batch featuring a unique blend of tropical fruits. This batch squeezes succulent passionfruit, dragon fruit, and coconut into a bright, festive concoction. The dragon fruit and passionfruit take the lead with coconut and lime in support.
Great Notion Double Blueberry Marshmallow Shake
9% ABV
Great Notion's Double Blueberry Shake lives up to its name. The tart sour is brewed with a massive amount of Oregon grown blueberries and finished with vanilla. For their Blueberry Marshmallow Shake, the brewery fluffs up their Double Blueberry Shake recipe with marshmallow. It hits the nose with blueberry and marshmallow with strong vanilla creme tones, followed by sweet and tart blueberry flavor with the marshmallow and vanilla riding shotgun.
Great Notion Marshmallow Peanut Brother
9.1% ABV
Great Notion grabbed their ooey gooey Peanut Brother recipe with tons of dry roasted peanuts and milk chocolate, a la Reese's Peanut Butter Cups, and fluffed it up with marshmallow for an even more delectable imperial milk stout brewed with peanut butter, chocolate, and lactose. The peanut butter rules the flavor with roasty chocolate and the marshmallow adding creaminess.
Great Notion Double Stack
11% ABV
Great Notion has won multiple awards for their imperial breakfast stout, Double Stack, including gold at the World Beer Cup 2018 Awards and a silver at the 2018 Great American Beer Festival. Double Stack is fermented with substantial amounts of maple syrup and aged on whole bean Sumatra from local Oregon roasters. It hits the nose with some blueberry, strawberry, and earthy notes from the coffee beneath the thick layer of maple. The thick maple transfer to the taste with milk chocolate sweetness and a lingering creamy finish. The coffee adds some dryness on the finish, but it's still a sweet-flavored stout.
LINK: Peaks & Pints cooler inventory
---