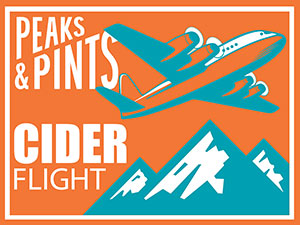 Get ready for a roséducation. The Greeks and the Romans made rosé. Monks made rosé too. Rosé wines are generally made from red grapes and are very versatile wines. A rosé wine will also be lighter in color than red wine, deeper in color than white wine. The pink color of rosé wine depends on the time the grape skin stays in contact with the juice, also known as maceration. There are also rosé wines that are semi-sparkling or sparkling, with different intensities of sweetness levels and dryness. Drop those ridiculous stereotypes and just #drinkpink. Peaks & Pints paints the mother pink with a to-go flight of rosé cider that we call Peaks and Pints Monday Cider Flight: Rosé.
Peaks and Pints Monday Cider Flight: Rosé
La Chouette Cidre Rosé
4.5% ABV
Located in the Mont-Saint-Michel Bay, La Chouette — which means "the Owl" in French — is a homage to the birds that watch over the production from their perches under the barn roof. Made from a selection of pears and apples, including red-fleshed apples, La Chouette's multiple award-winning Rosé is an all-natural craft cider with beautiful rose color and a bright, crisp demi-sec flavor. It's refreshing with tart finish on the tongue thanks to the acidity of the cider pears.
2 Towns Two Thorns
6.2% ABV
The Portland Thorns FC is an American professional women's soccer team based in Portland, Oregon. Established in 2012, the team began play in 2013 in the then-eight-team National Women's Soccer League. 2 Towns Ciderhouse teamed up with the Thorns to created Tow Thorns, a rosé cider made with fresh-pressed Northwest apples, raspberries and rose petals. The result is a uniquely fragrant cider with a vibrant red hue.
Republic of Cider Hibiscus Rose Julep
6.4% ABV
Wine led Monique Tribble to cider. Time spent at Lange Estate Winery and Fireseed morphed into a head cidermaker stint at wandering ASengus Ciderworks and Seattle Cider Co. before she grabbed the reins at Republic of Cider. Her Hibiscus Rose Julep includes hibiscus from Taiwan and Mexico with a hint of rose and a touch of fresh squeezed citrus.  She then adds a touch of agave to enhance the flavor profile. It's fresh and floral, well balanced with good acid and lightly sweetened with agave. It's a slightly carbonated alternative to an off dry rosé.
Whitewood Mountain Rose
7.1% ABV
David White started his production-only Olympia cidery in 2011 with business partner Heather Wingwood, with their first cider release in 2012. In May 2013, Whitewood Cider Company opened for business in Olympia, the only craft cidery between Seattle and Portland. Their Mountain Rose Single Variety Cider is made with 100 percent Mountain Rose apples grown by Kiyokawa Orchards in Hood River, Oregon. This beautiful blush rose colored cider sports flavors of strawberry, peach, cranberry, and a touch of pineapple.
Union Hill Cosmic Rose
7.6% ABV, draft

Classically bred by Washington State University researchers, Cosmic Crisp brand apples are a cross between Enterprise and Honeycrisp. Large, round, crisp and super juicy, these bi-color apples have a rich red that almost sparkles with starburst-like lenticels — which is where the name "Cosmic" originates. It's crunchy; it's extremely juicy; it's extremely sweet and also acidic. Union Hill Cider blended Cosmic with their Red-fleshed apples for their flavorful, semi-sweet Cosmic Rose with a soft, tart finish.
LINK: Peaks & Pints cooler inventory
---