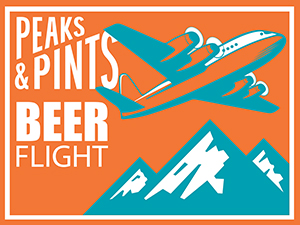 Peaks & Pints celebrates the opening day of Tacoma Beer Week 2021 with the release of E9 Brewing's Blown Deadline at 3 p.m. today. Brewed with CaskCades taproom in downtown Puyallup (their release party is noon to 3 p.m.) and The News Tribune Metro News columnist Matt Driscoll, portions of all draft sales will be donated to the Greater Tacoma Community Foundation's South Sound Media Impact Fund to provide support for community-funded journalism at The News Tribune. "I've consumed a fair amount of beer over the years — from fancy craft brews to faded Rainiers once lost to the back of the fridge — but somehow I'd never seen how it's made," says Driscoll, a McClatchy President's Award winner, who lives in Central Tacoma with his wife, Jennifer, and their three children. "It was awesome to be able to experience that at E9, a Tacoma institution, with my good friend [Peaks co-owner] Ron. I like to think the buckets of hops I added and the dedication I displayed while mashing out will really help lift Blown Deadline to the next level. With Peaks and Pints and CaskCades on board, I'm pretty sure we can't go wrong." In addition to the 3 p.m. release party, Peaks & Pints will also tap other beers related to the event for pint or crowler fills — a draft flight we're calling Peaks and Pints Pilot Program: Matt Driscoll In A Crowler.
Peaks and Pints Pilot Program: Matt Driscoll In A Crowler
E9 Blown Deadline IPA
6.4% ABV
On July 14, 2021, the staff of Peaks & Pints and CaskCades invited Tacoma News Tribune Metro News columnist Matt Driscoll to brew Blown Deadline, a citrus and pine IPA, with lead brewer Matt Riggs at E9 Brewing in Tacoma's Historic Brewery District. At the end of the brew day — after we added Amarillo, Cascade, Chinook, Centennial, and CTZ to the tanks followed by a hopback full of Simcoe hop cones — Driscoll, Peaks & Pints co-owner Ron Swarner, CaskCades co-owner Andy Gaine, and everyone in the brewhouse toasted Blown Deadline IPA's mission to help raise funds to support local journalism. Today, we discovered it's a refreshing, flavorful IPA with the bright citrus and grapefruit flavors and subtle pine notes.
Best of Hands Reports From Serious Reporters
5% ABV, 33 IBU
Matt Driscoll is a serious reporter. He has filed reports to expose local racism, the affordable housing deficit, youth homelessness, the cost of COVID-19, Cambodian refugees facing increased deportations, and many other important issues facing the community. Best of Hands Barrelhouse is a serious brewery. The brewed a serious Reports From Serious Reporters pale ale with Mosaic and Azacca hops for aromas of Mandarin orange, and overripe mango. Flavors follow the nose with undertones of balsam fir and orchard fruits. It finishes dry with notes of grapefruit, lime-like citrus pith, pine needle bitterness, social issues, politics, sports, entertainment, and the weather.
Kulshan Business Time
6% ABV, 40 IBU
As mentioned above, today's Blown Deadline IPA release party is a fundraiser for the Greater Tacoma Community Foundation's South Sound Media Impact Fund to provide support for community-funded journalism at The News Tribune. We tapped Kulshan Brewing's Business Time hazy IPA because, well, it's time to keep a business alive. Brewed with a trio of New Zealand hops, this hazy IPA is packed with juicy notes of peach, tangerine, and strawberry along with more subtle grapefruit and tropical fruit accents. A smooth and easy drinking malt body nicely compliments the big hop presence, making for a balanced and darned tasty beer.
Georgetown Lily
6.9% ABV
We tapped Georgetown Brewing's Lily hazy IPA today not only because it's a delicious beer, but also Lily is the name of Matt Driscoll's teenage daughter. Because of her age, we'll not dive deep into any background information on Lily other than to mention she's as wicked smart as her parents, plays Uno like she's in Vegas, knows her way around a violin, and digs thrift store shopping. In regards of the beer, expect notes of tangerine, peaches, and cantaloupe.
Wet Coast Tacoma Arts Live Pale Ale
5.8% ABV
Before Matt Driscoll was the News Tribune's Metro New columnist, by way of the Seattle Weekly, he spent years working with then co-publisher Ron Swarner at the Weekly Volcano, the South Sound's alternative newsweekly. At age 21, Driscoll wrote a weekly music column for the alt rag before taking the reigns as editor, continuing his music coverage but adding a weekly sports column, op-ed column, and the coveted Bobble Tiki culture column, in addition to driving the rag's editorial mission. He often interviewed the staff at the Broadway Center for the Performing Arts, which is now called Tacoma Arts Live. The Tacoma Arts Live asked Wet Coast Brewing to brew a pale ale that they could add to the Brew Five Three To-Go Kits this weekend. The Tacoma Arts Live Pale Ale is brewed with Azacca and Huell Melon hops giving it a floral nose with flavors ripe fruit and a hint of pine.
LINK: Peaks & Pints cooler inventory
---
Category:
Beer Line Blog
,
Craft Beer
,
Critical Drinking
,
Events and Festivals
,
New Releases
,
News and Updates
,
On Tap Today
,
Peaks and Pints Pilot Program
,
Specials
,
Tacoma events
,
Tacoma Strong
,
Taps Takeovers