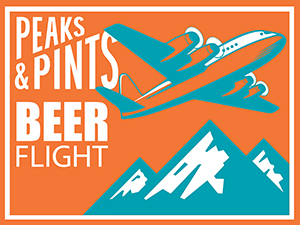 In the centuries before temperature controls, grain for brewing was dried over an open flame, imparting a smoky quality to the resulting malt. Over the years, brewers have learned ways to keep that often acrid flavor out of their beers. In Bamberg, Germany, the rauchbier (smoked beer) tradition is still going strong with a handful of breweries that produce different types of smoked beers, including Schlenkerla Rauchbier Märzen. While the beers of Bamberg are almost exclusively lagers, most American smoked beers have a dark ale as their base. Porters are most common, the most iconic of which is Alaskan Brewing Company's Smoked Porter. Today, we present Peaks and Pints Pilot Program: Smoke Beer On the Fly, a to-go flight of smoked beers, because sometimes smoke is exactly what you want. Just as with scotch, wine and even the humble brisket, a beer with these pungent flavors can become truly transcendent, a hearty food for the soul.
Peaks and Pints Pilot Program: Smoke Beer On the Fly
Headless Mumby Smoked Rye Lager
5% ABV
In November 2018, Alex Maffeo and Keith Ciani opened Headless Mumby Brewing in West Olympia, specializing in lagers. Headless is a salute to the song "Roland the Headless Thompson Gunner" by Warren Zevon. Ciani is a rabid fan. Mumby is a reference to a defunct logging and shingle mill from the early 1900s, which operated in the area where Maffeo now lives. This past June, Headless Mumby grabbed gold for its flagship Smoked Rye Lager and Very Small Brewery of the Year at the 2019 Washington Beer Awards. Smoked Rye Lager is brewed with hefty doses of Munich and rye malts, subtle noble hops with a moderate smoked malt presence.
Aecht Schlenkerla Fastenbier – Lentbeer
5.9% ABV, 35 IBU
Schlenkerla Lentbeer is an unfiltered smoke beer, brewed in accordance with the Bavarian Purity Law of 1516, in which its barley malts are smoked over beech wood logs. Its higher smoke malt concentration and longer maturation in the 700-year-old cellars underneath Bramburg create a flavor profile of most intense smokiness beautifully balanced with deep malt sweetness. Bottom-fermenting yeast gives the reddish brown lentbeer a natural cloudiness. Its smoky aroma is already noticeable in the smell, combined with a fine hoppy note. On the tongue, expect strong malty flavor, rounded up with the smokey taste and a light bitterness.
Alaskan Smoked Porter
6.5% ABV, 45 IBU
A repeated Gold Medal winner at the Great American Beer Fest, Alaskan Brewing's Smoked Porter nearly as old as the brewery itself, dating back to 1988 when it debuted as one of the first smoked beers in the States. A testament to the beer's lifespan, Alaskan releases Smoked Porter in limited yearly vintages, each with their own unique identities. Relying on techniques derived from Alaskans who brewed more than a century ago, Alaskan uses direct heat from local alder wood to malt its barley — a process also recognizable to those who love smoked salmon. And the water for the beer comes from a nearby glacier. That's all fine and dandy, but let's get to drinking. A robust woodsmoke aroma backs up the beer's name even from a distance. Smoked Porter's flavor follows suit on the smokiness, though less intensely than the smell. Roasted malts, molasses, plums, and a puckering charcoal all swim up from this complex brew.
pFriem Maple Syrup Barrel Aged Smoked Porter
9.1% ABV, 45 IBU
pFriem Family Brewers' porter is made with smoked malt brewed to high strength, then aged in barrels first used for bourbon, then maple syrup, and finally this Maple Syrup Barrel Aged Smoked Porter. It's potent, smoky, and rich, with the aroma of syrup you'd drizzle on a stack of flapjacks, followed by notes of pecan pie baking in a wood-fired oven, rich toffee, and dark chocolate delight the palate before giving way to a decadent finish.
Skookum Deep Color
10.3% ABV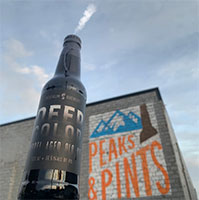 Skookum Brewery's Deep Color old ale recalls the type of beer brewed before the Industrial Revolution, stored for months or even years in unlined wooden vessels known as tuns. The beer would pick up some lactic sourness because of wild yeasts, lactobacilli, and tannins in the wood. The result was a beer dubbed "stale" by drinkers: it was one of the components of the early, blended porters. Skookum brewed a strong old ale, added cherry wood smoke malt then aged in in whiskey barrels for 10 months. The result is Deep Color with deep notes and aromas of dark fruit, tobacco, oak, and mild smoke.
Van Steenberge Gulden Draak Smoked
10.5% ABV
For the creation of the Gulden Draak Smoked, Brewery Van Steenberge went back to the ancient tradition of malt drying: smoking malt. The dark tripel ale is also brewed with caramel malt and re-fermented with Bordeaux wine yeast. It hits the nose, as expected, with smoke, as well as notes of bacon, cherries, dried fruits, and a hint of chocolate. Expect a full body, creamy texture, good carbonation, nice smokey note, and a sweet finish.
Hel & Verdoemenis Scotch Whiskey BA – Brett
11% ABV, 102 IBU
The Hel & Verdoemenis Scotch Whiskey Brett BA, a variant of de Molen's flagship, is aged for 6 months on a smokey whisky barrel, with the last month being infused with a Brettanomyces strain, which adds more and more funky red fruit notes over time, but offers chocolate, sourness, roasted coffee, smoky barrel, and dryness now.
LINK: Peaks & Pints cooler inventory
---