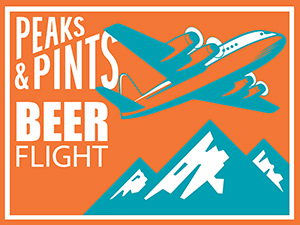 Simcoe was introduced in 2000 by Yakima Chief Ranches as a proprietary hop varietal with strong bitter and aromatic qualities. Little has been released about its parentage, but it has been compared to Cascade. Simcoe isn't a one-style pony; this variety can do great things in several beer styles, and is often used in conjunction with the Cascade, Centennial, Chinook, and Citra hop varieties. Although not used much as a bittering hop, many craft brewers favor Simcoe for its unique aroma profile composed of piney, woody, and grapefruit citrus notes mixed with slightly dank and spicy notes of onion and garlic. We certainly enjoy it and deem worthy of a to-go beer flight — along with its companion C-hop friends. Peaks and Pints Pilot Program: Simcoe and the C's Flight is on today.
Peaks and Pints Pilot Program: Simcoe and the C's Flight
Revision IPA
6.5% ABV, 50 IBU
In 2015, Jeremy Warren left everyone knee deep in tears when he departed the brewery he founded, Knee Deep Brewing Co. In March 2017, he opened Revision Brewing Company in Sparks, Nevada, leaving everyone knee deep in hops. He began pounding taste buds with his lupulin-laden creations once again, including his IPA, which is crystal clear and bursting with old-school, dank, and Northwest hops, including Simcoe laying the foundation with tropical citrus, orange and pine flavors melding seamlessly. There are callbacks to the last decade, but an appreciative nod to today in the way the hops come together.
Stoup Neck Tats
8% ABV
We've told the Stoup Brewing story a thousand times, but it bears repeating. Scientist Brad Benson and foodie Lara Zahaba opened Stoup in Seattle's Ballard neighborhood in 2013. Washington state's first female Cicerone, Robyn Schumacher, became Stoup's third partner, assisting Benson in the brewing room. Stoup's Neck Tats Double IPA is bittered with Chinook and copious amounts of Simcoe added in the whirlpool and dry hop. Hop additions in the forms of pellets, cryo-pellets and resinate result in loads of layered goodness, citrus hops, pine, and subtle cantaloupe.
Trap Door HoliDANK
8.5% ABV
Some people like bud, some people like beer, and some like both. Those who are a connoisseur of both have taken to attributing the term "dank," a term that means pungent, funky, and odoriferous, to both good weed and very hoppy IPAs. Dank means an extremely overpowering odor that can smell like the citrus and pine flavors everyone loves, including Trap Door Brewing out of Vancouver, Washington. Their winter double IPA HoliDANK is dry hopped with classic dank hops Simcoe, Centennial, Columbus, and Mosaic for all the piney, floral dankness.
Fremont Hustle IIPA
9% ABV
Fremont Brewing has released several double IPAs in the last decade such as The Bother, The Sister, Stay'in Alive, Omega Doom, Disco Wolf, and Double Trouble, but the word on the street is Fremont plans on hustling their Hustle IIPA for a while. Brewed with 2-row Pale malt with Columbus Extract, Chinook, Centennial, and Simcoe Cryo hops, this old school double IPA hits the nose with orange and grapefruit citrus high notes with pine and aromas reminiscent of tropical white wine, followed by moderate sweetness and moderate bitterness with some lingering bitter in a medium body.
LINK: Peaks & Pints cooler inventory
---