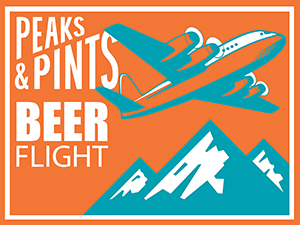 The most-hyped monsters to arrive in Tacoma this spring weren't the potholes on North 27th Street in the Proctor District, but sea creatures inside the Peaks & Pints' cooler. Their arrival at Peaks sparked a mini-sensation, proof of the enduring popularity these monsters have enjoyed ever since Jules Verne conjured one up to attack Captain Nemo. It was also the kind of discovery that gave Peaks & Pints bartender Mitchell Lovett his raison d'etre. A fan of drinking scary squishy things all his life, Lovett has completely immersed himself in the study of what he calls "sea creature beers." Today, Lovett has created a to-go beer flight from the monsters inside the Peaks' cooler — a flight he's calling Peaks and Pints Pilot Program: Sea Creature Beers On the Fly.
Peaks and Pints Pilot Program: Sea Creature Beers On the Fly
Sig The Creature From the Blue Lagoon
6.5% ABV
In director Jack Arnold's Creature From the Black Lagoon (1954), our first glimpse of the Lovecraftian Gill-Man is disappointingly brief. With Joseph Gershenson's superb, blaring score trumpeting its appearance, a webbed, taloned hand rises from the Amazon River's inky depths and claws the shore. In Sig Brewing Head Brewer Jeff Stokes' The Creature From the Blue Lagoon, our first taste of the "Blue Lagoon Cocktail Sour" is gratifyingly lengthy. The smoothie-style fruited sour is made with lemonade, Maraschino cherry, orange, and Blue Curacao. It's sweet and tart — like the Pixie stix we use to enjoy while watching the Creature From the Black Lagoon.
Block 15 Ocean Man
8% ABV
Speaking of the Creature From the Black Lagoon, a drawing of the fame Gill-Man graces Block 15 Brewing's Ocean Man can. Inspired by the lands surrounding the Baltic Sea, Ocean Man is bold, rich, and highly drinkable Baltic Porter with notes of roasted coffee, dried plums, and dark chocolate, and earthy, malty-sweet aromas are a balance of land and sea. This Baltic Porter is deep in color, like the bottom of the sea, but rises with a clean finish that leaves you thirsting for more.
Pelican Siren of the Sea
10.7% ABV, 28 IBU
Siren, in Greek mythology, is a creature half bird and half woman who lured sailors to destruction by the sweetness of her song. Luring beyond just sailors, Pelican Brewing's Siren of the Sea enchants beer lovers across the rugged coastlines. In a true tale of two seas the Pacific City, Oregon, brewery continue their ongoing collaboration with Clonakilty Distillery in County Cork, Ireland for this epic barrel-aged beauty. Traveling across the Atlantic, these Irish Whiskey Single Grain Bordeaux barrels were used to age this deep malty, amber ale for over a year. With her release from the French oak casks, Siren of the Sea has notes of rich malt, fruity berries and wood spice with vanilla-like flavors and a smooth, balanced finish.
Buoy Love, Lost At Sea (2022)
12% ABV, 70 IBU
Buoy Beer Company released its fifth vintage of their Love, Lost at Sea barrel-aged barleywine this past Valentine's Day. Strong and complex, this vintage is aged in Freeland Spirits bourbon barrels for 10 months to give it a smooth, sweetly toasted flavor. A piquant and distinctive malt character rounds out the profile using a dense grist of British pale, British Crystal, and Chocolate malts, all balanced by a healthy dose of Oregon hops. This warm, harmonious ale shines a light on the tangle of love gone adrift. The label artwork for Love, Lost at Sea was created by Aaron Toledo.  Originally from Kansas City, Aaron moved to Oregon in 2002 where he's been tattooing at Keepsake Tattoo Studio ever since. Aaron is inspired by the ocean, the woods, far reaches of the earth, and "crazy-ass people," which is probably why he's tattooed so many around the Buoy's hometown of Astoria.
Fremont Sky Kraken
5.5% ABV
The Kraken is perhaps the largest monster ever imagined by mankind. In Nordic folklore, it was said to haunt the seas from Norway through Iceland and all the way to Greenland. The Kraken had a knack for harassing ships and many pseudoscientific reports said it would attack vessels with its strong arms. If this strategy failed, the beast would start swimming in circles around the ship, creating a fierce maelstrom to drag the vessel down. We released the Kraken because Krakens can only be kept a secret for so long," explained Matt Lincecum, Fremont Brewing CEO, in a media release. Fremont's Sky Kraken is a hazy pale ale made with Strata, Mosaic and a touch of Citra hops and 2-Row Pale malt, malted oats, white wheat, and flaked wheat. It swims through the sky with ripe melon, juicy citrus, pineapple, and pepper flavors.
Narrows OCTO IPA
7.2% ABV, 72 IBU
Enteroctopus dofleini lives under the Narrows Bridge. You might know it better as the giant Pacific octopus. It is the largest species of octopus found in the world. It has an arm span of up to 20 feet, it can jam into small cracks and holes because its beak is the only hard part of its body, and it changes color depending on its mood. Some can grow to a whopping 100 pounds over a relatively short lifespan of three to four years. The most famous giant Pacific octopus is, of course, OCTO, which graces the can Narrows Brewing's West Coast IPA. The Narrows brewers can see the Narrows Bridge from their brewhouse as they add Centennial, Chinook, and Columbus hops to a 2-row foundation to OCTO IPA for dank, piney bitterness from the deep.
LINK: Peaks & Pints cooler inventory
---