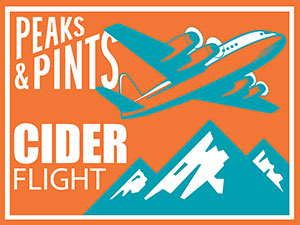 Sweet, dry, easy-drinking, and naturally gluten-free, ciders are so hip right now. In an era where "gluten" is seen as only slightly less sinister than Satan himself, their sales have skyrocketed, making it one of the fastest growing segments of alcoholic drinks in the country. American craft cider has been enjoying something of a Renaissance these days — a market once dominated by UK imports like Magners and Strongbow now has plenty of stateside competition. It was only a matter of time before someone dreamed up a weekly flight devoted entirely to cider. Oh, wait, we did. Welcome to this week's Peaks and Pints Monday Cider Flight: April 2022.
Peaks and Pints Monday Cider Flight: April 2022
Swift Pineapple Mai Tai
5.6% ABV
Swift Cider, an urban craft cidery based in Portland, Oregon, is the reincarnation of Outcider, which was originally founded in spring 2012. Founding owner and head small-batch cidermaker Aidan Currie continued to dedicate his life to small batches made with fresh-pressed apples, local ingredients, slow-and-cold fermentation, and wild yeasts when he rebranded as Swift Cider in the Spring of 2014. As part of their Upside Down Cocktail series, Pineapple Mai Tai is made with pineapple, blood orange, cinnamon, and vanilla beans for notes of sweet citrus, fresh cut pineapple, spice rum, and vanilla.
One Tree Boysen The Berry
6.8% ABV
Grant Barnes and Neal Hennessy started making cider as a hobby, and it turned into a vocation. One Tree Hard Cider started in Barnes' Spokane Valley garage, with exactly one recipe: a relatively straightforward semi-sweet apple cider. They went pro in the summer of 2014. Their Boysen The Berry is made with apples, boysenberries, pear, pineapple, elderberry, and plum for a sweet, fruity cider.
Channel Marker Cedar Ginger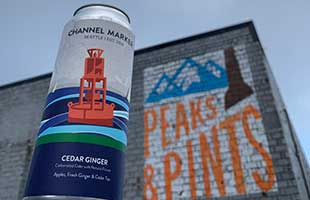 7% ABV
Nestled between the lush Cascade Mountains and the salty Puget Sound, the maritime climate and adventurous spirit of Seattle provides the inspiration for Channel Marker cider recipes. And they source, forage, and grow many of their ingredients from around the Sound — their backyard. Few aromas capture the essence of the Northwest like a woodsy, warm scent of Thuja plicata, the Western red cedar. Channel Marker Cider combines these evergreen notes with the pop of exotic, spicy ginger to give this off-dry cider a unique and drinkable flavor.
Yonder Velvet Cashmere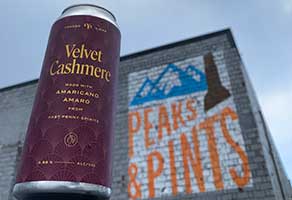 8.9% ABV
Yonder Cider grabbed their Negroni-inspired winter seasonal — Cashmere — and blended it with Fast Penny Spirits' Amaricano amaro. Tart with notes of cranberry, dark cherry and bitter orange, the addition of amaro brings a beautiful richness to this cocktail-like creation. Aromas of toasted sugar and dark fruit shine through while hints of truffle, vanilla bean and Mexican chocolate mingle with a savory bitterness.
LINK: Peaks & Pints cooler inventory
---